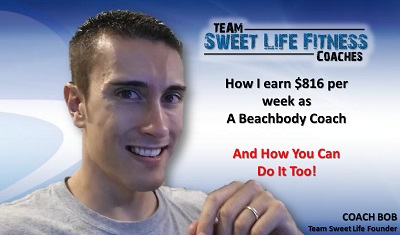 Ever since I posted my record Beachbody Coach paycheck post, I have been receiving questions on "how I did it". While, since then, my income continues to rise based on my efforts and consistency, I wanted to share some legit, take-away tips on how I earned $816 per week through Beachbody Coaching, and how you can too!
BUT…I get worried about talking this side of the business with people.
Why? Because some people express interest only on the glamor of the income. I do not want someone who jumps into becoming a coach only for the money, and then realizes you actually have to do something to EARN the money.
Coaching is JUST like P90X – you get out what you put in. Each day you push play on P90X to get fitness results, and Beachbody Coaching is no different.
So why the heck am I sharing this then??
I am sharing this because I think back to when I was first considering becoming a coach. I wanted to make sure that there was a legit opportunity to earn income while staying consistent with my fitness journey. Show me the money, show me the effort, and don't sugar coat it! That is why I was inspired to write this to HELP YOU succeed.
How I earned $816 by Beachbody Coaching – The Video
So first off: I FAILED! Lol – I put the camera on and got inspired to do this video. But then I realized I mentioned $814, when the week I was referring to was actually $816. Oh well, the details and tips are below the video, and the value is also in the video!
Here is a recent commission snapshot showing the $816.85 in one week broken down. Each week this number increases as I am going straight to the top and bringing ALL of our Team Sweet Life Coaches with me. How? Let me tell you below in THREE tips.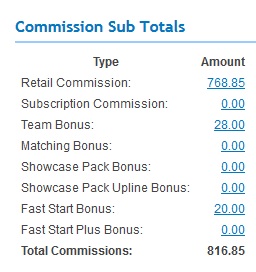 How YOU Can Do It Too – Tip #1 – Plan & Consistency
I will say that the Business Activity Tracker, that Beachbody provides (and is also explained in our private training site with Team Sweet Life) is king. It keeps you organized and not overwhelmed with too much. The coaches on Team Sweet Life that I see generating the highest incomes follow this consistent plan each and every day.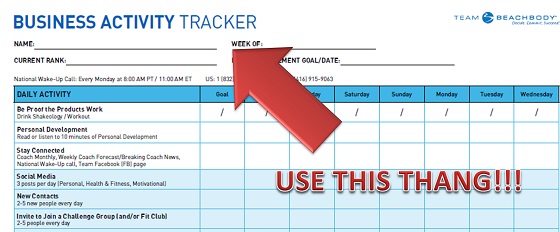 But regardless, I find that the KEY is to plan your goals daily, weekly, and monthly. I find a lot of people try to do "their own thing" in search of the silver bullet secret to success. I did that myself back in 2012 (and I failed miserably at it!). The moment I started following the game plan, things increased. This is why I share ALL of my failures and successes, especially in our training site. Learn from the mistakes of the past, and always remember that success leaves clues!
Tip #1 Takeaway: Set yourself on a plan and do it CONSISTENTLY. If you work hard on your job each day, do the same with coaching! Set time aside to work your business and don't go on a roller coaster ride of good weeks and bad. Consistent and steady wins every race.
How YOU Can Do It Too – Tip #2 – Always Be Expanding
As I mentioned in my recent post on Why Beachbody Coaching doesn't work, you do NOT want to get caught in the trap of waiting, dreaming, and thinking. You must ALWAYS BE
EXPANDING!!
What does "expansion" actually mean?
Exposing your journey to more people each day (Facebook, your circle of influence, blogging, YouTube, etc)
Starting up new relationships with new and motivating people each and every day.
Finding and helping new people who WANT to get fit and healthy (don't be a Beachbody Salesperson and get someone that is not interested right away!).
Helping new people (regardless if they buy from you or not – give people value out of your heart, and you'll be paid back double!)
Expanding your team (after all, your CEO of a normal business job is always looking to increase his team and profit, why not you?)
Don't get caught in task world. You know what I mean…sitting around thinking you are working your business. Before you know it you realize you are checking out pictures from your cousins wedding in 2008 on Facebook (don't deny it!). Use the planning as mentioned in Tip #1 to always be expanding.
Tip #2 Takeaway: Expand consistently. Don't mistake tasks for success. Use social media to your advantage!
How YOU Can Do It Too – Tip #3 – Mental Strength
I read a lot of personal development (and so should you if you want to be a Beachbody Coaching success). One trend I see in any successful entrepreneur (including Bill Gates, Donald Trump, Steve Jobs, etc. etc.) is MENTAL STRENGTH.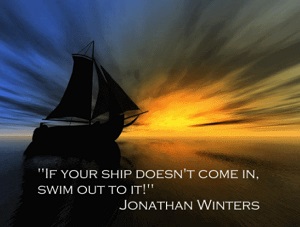 Things are going to happen. You might have someone return a challenge pack. You might even have a personally sponsored Coach quit! Bad bumps in the road are natural, and don't let anyone tell you otherwise!
But just like Bill Gates and the others, when times get tough, you have two choices:
Even though it can be tough, option #2 is what will bring you to success. Once coaches decide they are IN IT to win it, the mental strength is what will carry you through. At this point, even though I have had my UP weeks and Down weeks, I don't want to quit anymore (I used to think about it, sure!). I don't want to look back and wonder WHAT IF I would have stuck with it.
Tip #3 Takeaway: Decide that you are ALL IN and stop "thinking" about if it will work. Use your God-given strength to MAKE it work. Personal development (lots of reading/audio books) helps with mental strength!
I hope you found value in these tips based on my performance. My goal is to HELP you either become a better Beachbody Coach, or, if you aren't yet a Coach, realize that Team Sweet Life and myself are here to help you should you decide to join with our team.
If you are someone who wants more out of life, click the link below to secure your spot on our team today. When you sign-up with Team Sweet Life Fitness, I'll reach out to you within 24 hours to get you started right. Of course, if you have more questions, Contact Me or comment below

Call me if you have questions!
(352) 432-8032
Message Me On Facebook
Yours in Success,
Coach Bob
Team Beachbody® does not guarantee any level of success or income from the Team Beachbody Coach Opportunity. Each Coach's income depends on his or her own efforts, diligence, and skill. See our Statement of Independent Coach Earnings for the most recent information on the actual incomes of all our Coaches.