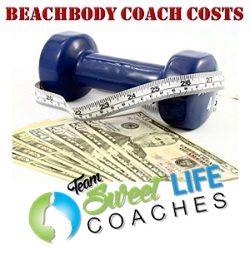 So you are interested in becoming a Beachbody Coach, but want to know more about the Beachbody Coach Cost?
As the leader of Team Sweet Life (my team of coaches, the sweetest of all teams in Beachbody, if I can say so myself lol), I will share all of the details with you today.
Believe it or not, there are a few different ways you can succeed as a Coach. Certain costs may vary based on what you are looking to do as a Beachbody Coach.
I'll explain all of the details from the basics to the advanced levels depending on your goals.
Beachbody Coach Cost – The Basics Option
This section is dedicated to the bare minimum. While I don't always recommend this for those who want to earn significant income with Beachbody, it can be beneficial for people looking to get started out. For example, if you are interested in: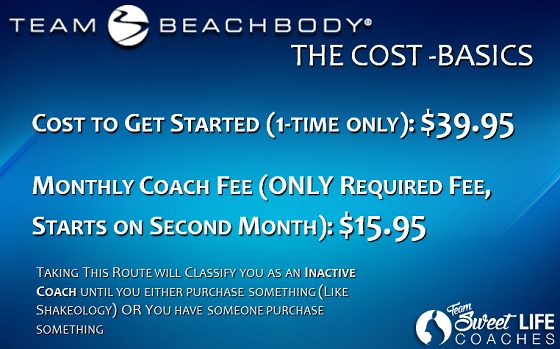 If either of those points above sound like you, then this Beachbody Coach Cost option would be best for you. Here are the minimum costs:
$39.95 to start (one time). This activates your coach account and gives you immediate access to the online office and 3 websites you can direct people to. (Example of Websites: General / Shakeology / Ultimate Reset).

*This fee can be waived

if you order a Challenge Pack during the Coach Application*
$15.95 per month starting your 2nd month. No annual fee. This monthly charge is because Beachbody handles all customer service, shipping, and billing. You don't have to store a bunch of inventory at your house, and will not have to deal with returning items.
Active Coach vs Inactive Coach
This Beachbody Coach Cost option will mean that you are an inactive coach. You become an active coach when you get 50 personal volume points every 4 weeks.
The best way to achieve active status is either drink Shakeology yourself, or have someone who is interested in a product or products that have at least 50 personal volume points or more (P.S. Shakeology has 90 personal volume points!). This isn't a "Quota" or a "Business Requirement" – remember that Beachbody Coaching is NOT some high pressure sales force. You can remain in the inactive status if you wish, but most people drink Shakeology regularly and don't have to worry about this at all.
Beachbody Coach Cost – Ultimate Success Option
"Ultimate Success" doesn't mean you have to spend a ton of money. In fact, a lot of Coaches on our team are successful without spending much money (the success lies in how cosnistent you are with the business each day). The first two points are the minimum costs, followed-up by what I think can help propel you forward in your Beachbody business.
**BUT REMEMBER!! I am here to help you SUCCEED. It is my passion that when you join Team Sweet Life Coaches (my team), you will be shown the way through our training and motivation. I won't let you fail. That being said, if you can't afford Shakeology yet, you can still join as a Coach and we'll help you earn enough income to get Shakeology free!**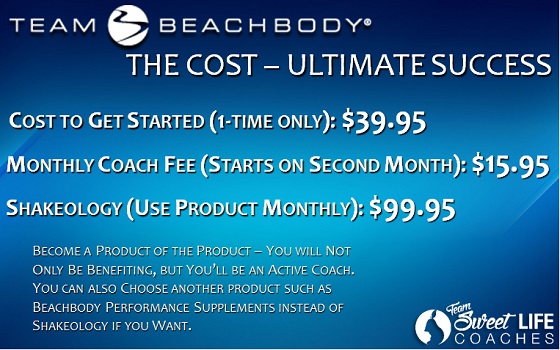 $39.95 to start (one time). Waived if you purchase a challenge pack during your coach application.
$15.95 per month starting your 2nd month (no annual fee).
$99.95 for Shakeology. One of the main goals of a Beachbody Coach is to be a product of the product (meaning, work on your own health and fitness). This is a popular product, and customers always ask about it.
This means that you are looking around $115.41 per month, which includes the $15.95 monthly coach fee and your Shakeology cost. This is really a drop in the bucket compared to some businesses. Plus, our Team Sweet Life exclusive training (if you choose to join my team) will help you recover that cost through simple strategies that are shared within the first two modules of our training.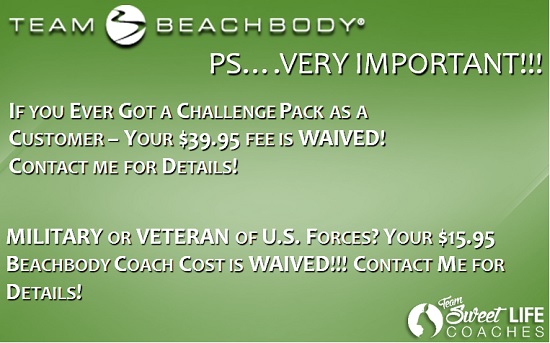 If you want to get the $39.95 fee waived and get Shakeology at a discount, consider getting a Challenge Pack. This means you will get any program you want (P90X, INSANITY, Focus T25, etc), the $39.95 initial fee waived, and your first month of Shakeology at a discount. You can simply order this challenge pack as an option after you complete the application.

Beachbody Coach Cost – Is it Worth It? Can You Actually Make Money?
What makes it worth being a Beachbody Coach? It all depends on the work you put in. If you come in, follow our training, and make consistent daily action, you will see growth.
If you are worried about the cost, trust me – I was too! I didn't have the income to support $39.95 to start and $15.95 + Shakeology per month! But what I found was that with the right team (Team Sweet Life!) and the right training, anything is possible. If I would have let the Cost to become a Coach get in my way, I wouldn't have achieved these types of checks weekly:

Want to see more? See HOW I earn around $814 per week and also learn about Beachbody Coach Income.
Beachbody Coach Costs – Coach Bob's YouTube Video
Check out this video for more information on the Beachbody Coach Costs:
Let's Rock this – Check out more on how you can join me as a Beachbody Coach
Partner with me – Let's Rock Beachbody Together!
If you are ready to become the next member of Team Sweet Life, click the red button below this page and we'll chat more. Our team is rising to the top and I am selective on who joins the team, so let's hear about your passion first!
Team Sweet Life is ranked in the top 0.50% of all Beachbody Coaches!
When you join – you get my availability to help you every step of the way. We didn't get to the top by luck – we work hard and inspire many.
See just a few of our awesome Team Sweet Life Coaches in this video! If you are ready, fill out the application below, or just Get Started NOW

Yours in Success,
Coach Bob