If you are like I was when I was trying to determine if I should Become a Beachbody Coach, you might want to know a little more about
Beachbody Coach Income. When I first started I really didn't have a lot of money to throw around, so knowing that Coaching was indeed legit was important to me (and my family!!). I'll share how you can earn income as a Beachbody Coach within this post. Be sure to also check out my webinar for more information on Coaching.
For me personally, I was a bit hesitant when I started as a Coach. I didn't have a lot of money to afford the $15.95/month and wasn't sure if I had the time. Thanks to the great training that I received and that I pass along to every coach on our team to be just as successful, these hesitations became excitement! Just in the past year (updated October 2014), I have:
Paid off my Student Loans ($14,000) and Chrysler 300 3-years early
Earn consistently between $800-900 per week
Brought my wife home from her corporate job
Help all of our current and NEW Team Sweet Life Coaches do the same with our dynamic training site.
Beachbody Coach Income – Average and Realistic Figures
Each year Beachbody releases their own audited statement of Beachbody Coach Income for the prior year (see the document here). The audited statement is primarily based around the different Beachbody Coach Levels.
Let's check out he average and high earnings of the major ranks of Beachbody Coaches, and second how many Coaches achieve each rank. Notice that I highlight the High Earnings in Green. I do this because, who the heck wants to be average? If you shoot for the moon, and have strong intentions, you will land above the average.
Coach Rank – Average Earnings: $467 / High Earnings: $26,951
A Coach is where everyone begins their journey. From the most successful, to the people who give up, they have all achieved Coach Rank. For some people, the Coach Rank is their favorite spot. Most of the people who remain as a Coach are not interested in Beachbody Coach Income. They are in it for the 25% discount on products such as Shakeology.
Emerald Coach Rank – Average Earnings: $3,353 / High Earnings: $261,621
Do you think becoming Emerald Coach is hard? Absolutely NOT! All you need is two people who are passionate and want to get fit and healthy with you. When I first started, this was my spouse and a family friend. Just doing this puts you in the top percentage of coaches right off the bat, and you could achieve this fairly quickly (within your first thirty days). Plus, with our outside placement strategy, we help you leverage incentives like the Team Cycle Bonus which can add up quickly.
When most Coaches become Emerald, they usually start getting weekly Beachbody Coach Income (of course that can vary).  What we (Team Sweet Life) do NOT do is go out and try to "get people" to join. If you come into our team thinking only how you can achieve tons of Beachbody Coach income fast, you will fail. I'll share how Team Sweet Life Coaches succeed and how I will help you succeed at the end of this page. In fact, Emerald Rank is where I received my first record Beachbody Coach Paycheck.
Diamond Coach Rank – Average Earnings: $18,175 / High Earnings: $136,818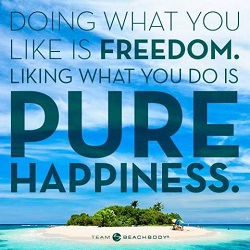 Realistically, there are more Diamond Coaches achieving near the High Earnings versus the Average Earnings (keep in mind these Beachbody Coach income figures are from 2012).
But wow does it start to thin! Only 12.5% of coaches are Diamond Coaches.  Does this mean it is very hard to achieve Diamond? NO WAY! You just have to put in your passion, effort, and time to succeed.
To reach Diamond Rank (and be eligible for a lot of great perks, bonuses, and increased Beachbody Coach income potential), you will need 8 coaches on your team, and 2 of those 8 coaches will need to be Emerald Rank.
Star Diamond Rank – Average Earnings: $90,746 / High Earnings $1,645,484
Yes, you've read that correctly. This is the real deal. Average earnings of $90,746 last year, and that number continues to grow. About 2.4% of Coaches are in this rank. But if our coaches can do it, why can't you? The secret to reaching Star Diamond? Passion, effort, and time (notice the trend yet?).
You have a choice. Stay where you are, or do something different. If you are dead serious about making Beachbody your full time income, you totally can and will achieve it. But it will not happen overnight. Even if you want to make a nice part-time income working in your spare time, it will happen with passion, effort, and time

Have more questions before you get started? Contact me and let's chat more!
My Realistic Beachbody Coach Income
I'm going to share my income with you. The reason I do this is not to impress you, but to impress upon those who are serious and passionate about this business. There is opportunity here, you just need to reach for it.
When I first started, there wasn't much income. I had to work consistently, with a steady pace, to leverage and increase my weekly income. In fact, my first month I only made around $29.99. I learned quick what NOT to do in this business, and now I share my strategies with all Coaches on Team Sweet Life so you don't have to make the same mistakes.
Even today, my Beachbody Coach Income* has stayed consistent and strong:

(Yes, this is weekly income)
But how is this possible??
Well, as I look at it, Beachbody Coach Income is just like working out. If you don't commit to it consistently, you will never see a result. But if you put in the time, effort, and passion, compounded over time, results will come almost like "magic" (even though we know it was your consistent work that paid off). You could even make more than I do!
See our Team Sweet Life Coach webinar to see how I set all my coaches up for success to achieve their full potential with Beachbody.
How You Can Earn Beachbody Coach Income
Wondering how you can earn a Beachbody Coach Income? Inside Team Sweet Life, we offer accelerated training courses to get the most out of your Beachbody Coach income potential. Here are the basic ways you can start earning right from day one:
25% Commissions on all Retail Sales: You can earn a 25% commission on sales, and 50% commission on all Beachbody Club memberships.
25% Residual Income Opportunities: On any home direct (otherwise known as auto-ship) product, you earn 25% each month that order renews. Shakeology is a good example. When your customers drink Shakeology, each month it is shipped to their house, you earn another 25% commission. This can add up over time, and really be a passive income stream that you aren't necessarily "working" for (in the sense of the 9-5 manual labor job).
Team Cycle Bonuses: Once you grow in Beachbody Coach Rank (Emerald or higher), you can earn team cycle bonuses. Each time your entire team (including Coaches placed on your team that you didn't personally sponsor) reaches certain volume, you earn bonuses. These can add up very fast, especially as your team continues to grow.
Matching Check Bonuses: As you become a leader in the company (Diamond, Star Diamond), you get a matching check bonus on your team's check.  This means when your team is earning checks and income, you get a bonus!
Beachbody Profit Sharing: Once you join the star diamond ranks, you can be eligible for company profit sharing. When the company is doing well, there have been bonuses of $30,000 every 3 months per qualifying Coach. You'll have to work to get here, but the payoff is grand.
How to make a Significant Beachbody Coach Income
Ok, up to this point we've been talking about facts. Check out the video below:
Myself and Team Sweet Life are going straight to the top. You are welcome to join us IF you are someone passionate about Making Fitness Fun and helping others. If you primary goal is to only MAKE MONEY, you will FAIL. You have to include passion behind what you do in order to be successful.
If you see the benefit of becoming a Beachbody Coach, are passionate, and are ready to be trained to live the SWEET LIFE, check out our Beachbody Coach Webinar and then let's discuss more.
If you have questions, reach me on Facebook or call/text me at (352) 432-8032 anytime.
Serious about getting started with my strong team? Fill out the below Coach Application and let's chat more:
Thanks for checking out my post on Beachbody Coach Income.
To your Success,
Coach Bob
*Team Beachbody® does not guarantee any level of success or income from the Team Beachbody Coach Opportunity. Each Coach's income depends on his or her own efforts, diligence, and skill. See our Statement of Independent Coach Earnings for the most recent information on the actual incomes of all our Coaches.