There are a lot of Beachbody Coach Levels, but without really understanding what they mean, it's hard to get excited about them. Today I'll explain all of the details behind the Beachbody Coach Ranks and how you achieve each one of them (and how much income each of them can earn).
There are a total of nineteen (19) different Beachbody Coach levels. As your knowledge and business grows, you can get a higher rank. Each Wednesday at Midnight the system updates as we get paid every Thursday (yes, weekly paychecks!). It is every Thursday that we see what commissions we earned and what new ranks we achieved (as long as you are working hard to move your business forward).
Beachbody Coach Levels – Each Rank Explained
I'll start off with the basics first. You'll see the image below explains the details behind the Beachbody Coach levels. I'll explain what the different colored dots mean and the key with the "PV" as well right below the image.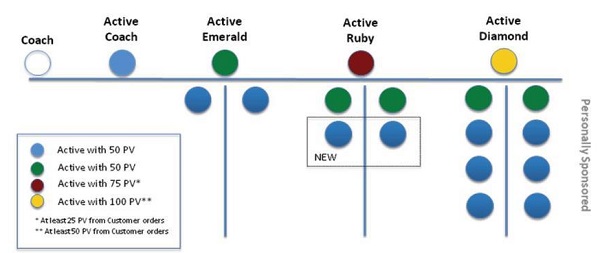 COACH / ACTIVE COACH – A Coach is someone who just started on the team. Anyone, no matter what rank they are, started as a Coach. The difference between a Coach and Active Coach is that an Active Coach has 50 PV (Personal Volume) points every month. This can be through retail sales or personal sales. While there is no requirement to be a Coach, most Coaches drink Shakeology daily, this product alone carries 90 PV, which satisfies the requirement to be an active coach.

Benefits: 25% Commissions on all sales; 15% on all club member orders; 50% on club member dues. Oh and of course you get an awesome discount (25% off).

Average Income

: Low $0 / Average $467 / High $26,951
EMERALD COACH – This is the Beachbody Coach Level you want to aim to hit right out of the box. To become an Emerald Coach, you need to have two Personally Sponsored (PS) coaches. Personally Sponsored Coaches are different than regular coaches, because you will have people join below you that are not personally sponsored (but do impact your paycheck with Team Cycle Bonuses, which we explain in Team Sweet Life Training). As long as you remain active, and your two personally sponsored Coaches are active, you will become and remain Emerald.

Additional Benefits: Customer Lead Program (Beachbody gives you there paying customers to assist and help, meaning all future products they buy, you get commission!). You also get Team Cycle Bonuses on everything the team below you produces. This can be big and earn you up to $250 in bonuses per week.

Average Income

: Low $14 / Average $3,353 / High $261,621
RUBY COACH – As a Ruby Coach, you now have the two Personally sponsored Coaches that just joined you, plus two more (total of 4 personally sponsored Coaches). Two of the four coaches must be Emerald for you to achieve the Ruby Coach status. As long as you and your personally sponsored Coaches are Active, you will be a Ruby Coach! Most people are not Ruby long, because they either jump from Emerald to Diamond, or jump to Diamond within weeks of becoming Ruby.

Additional Benefits: Higher Team Cycle Bonus, and now also a Matching Check Bonus. This means that you get a percentage of a bonus on the income of your personally sponsored Coaches. This is huge, and shows how important it is to mentor and help all of your Coaches regardless of their different Beachbody Coach levels.

Average Income

: Low $1,869 / Average $11,011 / High $62,840
DIAMOND COACH – Things get pretty serious when you hit Diamond in the Beachbody Coach levels. If you want to look into doing this as a full-time job and experiencing freedom from being tied down to a job, this is where you want to set your sights. As your team continues to grow, you now have the same two Emerald Coaches, and an additional two coaches on each your left and right side. This means a total of 8 Coaches that are personally sponsored, and two of them have to be Emerald. As long as everyone is active, and all requirements are met, you will become a Diamond Coach.

Additional Benefits: Greater Team Cycle Bonus (you can now make $2000 per week in Team Cycle Bonuses). You will also receive a higher Matching Check Bonus, and a new ability to get FREE Coach Leads. This means if someone is interested in becoming a Coach, but doesn't have someone to work with, they assign them to all Diamond Coaches and above. This is a great way to grow your organization (personally sponsored too!) and aim for Star Diamond levels.

Average Income

: Low $212 / Average $18,175 / High $136,818 (Why is "Low" lower than Ruby? A newer Coach that has skyrocketed their organization may not make a lot of Income right away, that is why this could happen).
STAR DIAMOND – As you grow in Beachbody Coach Levels, the Star Diamond ranks are big. There are 15 different levels (1-Star Diamond to 15-Star Diamond). Each one of them has their own benefits which we explain in the Training. The biggest benefit is when you achieve 2-Star Diamond, you get an opportunity to earn Beachbody profit sharing. This is a quarterly bonus pool based on the revenue and profit margin of the entire Beachbody LLC. This is big league, friends. Each level of Star Diamond means you have a personally sponsored Coach that has hit Diamond-level. You can have more than 15 diamonds, but the maximum rank is 15-Star Diamond (also called Superstar Diamond).

Average Income

: Low $1,299 / Average $90,746 / High $1,645,484

Check out this video I created a while back where I explain the basics behind growing as a Team Beachbody Coach:
Join our Beachbody Coach Ranks and Achieve Beachbody Coach Levels
Team Sweet Life is about making fitness fun. If you are interested in joining our team, you can get an application by clicking the link below. If you still have more questions, either comment below, or check out our FREE PRESENTATION Webinar that explains all about Beachbody Coaching.
If you are ready to get started on an exclusive team like mine, Team Sweet Life, fill out the application below. I do not work with everyone, only those who have a passion to help others succeed and work shoulder to shoulder with me in changing lives! If you are ready to seriously rock, fill out this application and we'll chat more:

Yours in Success,
Coach Bob
Team Beachbody® does not guarantee any level of success or income from the Team Beachbody Coach Opportunity. Each Coach's income depends on his or her own efforts, diligence, and skill. See our Statement of Independent Coach Earnings for the most recent information on the actual incomes of all our Coaches. The bottom line: You get out what you put in. Your effort is a direct reflection of your income potential.
Thank you for reading my post on Beachbody Coach Levels. If you liked it, share it using the Social Media buttons