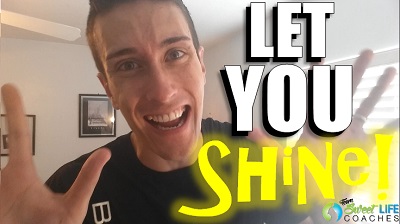 If there is anything that fires me up a lot, it's our awesome team of Beachbody Coaches (I call my team, "Team Sweet Life" with passion and pride). Today I want to help those who either already are a Beachbody Coach, or are thinking of joining the team with something VERY important. It's your God Given talent, my friends…your PERSONALITY. In today's post, we are going to let your Beachbody Coach Personality SHINE!
Let your Beachbody Coach Personality SHINE
In today's video I talk about how I got over the HATERS and started focusing on being ME. After all, that is what separates you from other Coaches. Trust me, Beachbody doesn't need you out there just advertising the programs (they make plenty of $$$ doing that from the infomercials). Instead, if you are out there sharing value and letting your personality SHINE, you'll find more success than you ever thought possible.

So why is it important to let your Beachbody Coach Personality SHINE?
YOU are the most important component of YOUR successful Beachbody Coach journey. If you want to attract the kind of people who will benefit from the awesome person you are, you MUST be the REAL You!
To heck with the haters
*Cue the "Haters gonna hate, hate, hate, hate, hate" – Shake It Off!*
Now, you might be thinking:
BUT Coach Bob, you don't understand, I think I'm [Ugly, Still Fat, Boring, Etc Etc]
My friend….we all have our imperfections. I learned that as hard as it can be, I have to rise above my imperfections in order to escape the BORING life that I used to live before Beachbody Coaching.
In fact, let me get a bit personal with you…here are my imperfections:
I have a slight accent from time to time (I'm from Pennsylvania, and sometimes that Northern accent shines through)
I have a noticeable port wine stain Birthmark on my face (in some videos you may see it!)
I am introverted (shy) and often get worried about what others think of me.
But I push forward! WHY?? Because my FAMILY, my GOALS, and my WHY is much bigger than the clowns and haters.
SHINE ON, My Friend
Are you ready to take your life to the next level? Whether you've already started a Beachbody program and are ready to inspire others, or need an extra push of motivation to get results, join our team as a Beachbody Coach!

Yours in Success,
Coach Bob