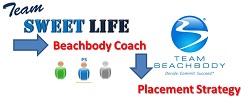 Beachbody Coach Placement strategy is one of the most important parts of your business! Whether you are already a Coach or thinking about Becoming a Beachbody Coach, understanding how to do this positively impacts your business and your income.
It's almost like being the President of a Company, and hiring a new Vice President, only to put him or her in a Manager role. Why would I put them in a Manager Role? That doesn't make sense? Well, neither does poor Beachbody Coach placements!
I always recommend what I call the "Power Leg" strategy. Take a look at the info on the page along with the video and you'll be on your way to a successful Beachbody Coach placement strategy.
Beachbody Coach Placement Strategy Video
In this video, I'll explain why it's important to use the power leg placement strategy. I'll also share the difference between Active, Inactive, and PS Coaches. (This post also coincides with the different ranks of Coaches. For more information on the ranks, visit Beachbody Coach Levels post).
How to Start your Placement Strategy Right
If you decide to join us on Team Sweet Life, I will make sure you are placed in the correct position. This is great for a lot of reasons as I explained in the video. As you grow as a Coach, you have the opportunity to earn a higher Team Cycle Bonus on everyone on your team (both PS and Non-PS Coaches).
Here are a few last tips to make sure you start your Beachbody Coach placement strategy correctly, including the definition of the "Power Leg" at the bottom:
Set Preferred Placement – When you become a Coach (or if you are a Coach already), go to your Coach Online Office. From there, click on "My Business > My Downline > Graphical Genealogy" From there you will see this screen at the top. Be sure to select "Set Preferred Placement" (it is probably on "Automatic Placement"

Set Preferred Placement (Continued) – You then want to go to the bottom right or left of your organization, and click the open blue spot (it will be dotted). Once you do that, it should turn to RED. This means the next Coach that you personally sponsor will be placed in this area.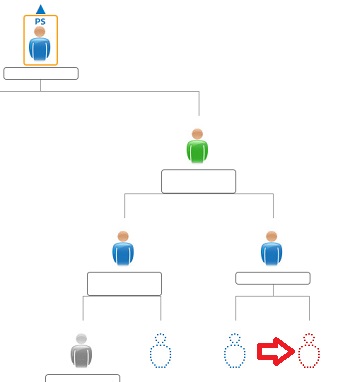 Where should you place a SPOUSE or Super Best Friend? – This actually matters. A lot of coaches invite their significant others to join them as a Coach. As a General Rule of thumb, I would recommend placing them on your POWER Leg (explained next) if they plan on working the business and building up strong (this means you'll both benefit from larger team cycle bonuses once you hit Emerald rank and above). On the other hand, if you will be working your spouses business more than they will, put them on your weak leg. This way you can control the volume that enters into your spouses account to help you cycle more often. Questions? Ask your Team Sweet Life Upline Coach or Me.
What is the POWER LEG? – In your Coach organization you have a Strong Leg, and a Weak Leg. The strong leg is usually the side that produces the most volume (Team Volume) that your upline coaches help build (SUPER cool benefit of Beachbody Coaching). The weak leg is the other side that doesn't produce as much volume.

The POWER LEG (Strong Leg) is the leg that is supported by your upline. This means that as everyone in your organization is growing, inviting, and bringing new Coaches in, they fall within that particular leg. The power leg never changes and can grow quite big. Most of the time the strong leg and power leg are the same (because it experiences the highest growth of new Coaches).
I hope you found this information helpful to your success as a Team Beachbody Coach. If you have any questions, don't hesitate to comment below.

Yours in Success,
Coach Bob
If you enjoyed this information on Beachbody Coach Placement, check out the other posts below that might interest you.