Today I'm sharing my FIRST 6 months Beachbody Coach Review. As the leader of the awesome Team Sweet Life Coaches (love the team!), it wasn't always success and sunshine. In fact, it took me a while to realize what Beachbody Coaching was all about to lead to where I am today.
The reason I write this Beachbody Coach review is to not only inspire my team of coaches and anyone looking to become a Coach, but really to also inspire all Team Beachbody Coaches. If you feel like your business isn't moving as fast as it should be, or you want to make sure this is a legitimate business you can join comfortably, read on!
I am going to talk about the Three Vital Behaviors that Beachbody promotes as the key to success for coaches. They are:
Invite, Invite, Invite
Be Proof the Product Works
Personal Development
These three things are what made things happen for Team Sweet Life. It will continue to fuel us forward as we strive to go straight to the TOP! Don't expect to come into this and have hundreds of dollars fall from the sky. I don't say that to be rude, but I want to be realistic and be honest with you!
Are you interested in Becoming a Beachbody Coach? Team Sweet Life Fitness (my team) has grown SO much over this past year and we are going straight to the top. Join our top Beachbody Coach Team, Learn More about Coaching Here.
Beachbody Coach Review on Income (Can you really make money?)
I really want to say again, I share this NOT to impress you. I share this because I remember when I was looking to become a Coach at first: I wanted to know "IS this business actually legitimate, and will it work for me!?!" I had no experience in this type of business, I was scared, I was skeptical. So I want to include this, especially if you have the same question I had.
When I first started out, I had NO CLUE what the heck I was doing. I thought I did. I had an ego by thinking "I've been successful in my full-time career, I should be able to do this too!". That is so dumb of me!!! It's like going to be a lawyer without any law experience or a law degree. Lesson learned lol.
So what happened? Within the first few months, this is what my weekly income looked like:
Then, I started learning, engaging in the three vital behaviors, and it led me to my first $1900 month: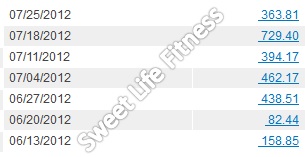 Before you ask, how am I doing today? Each day, week, and month it continues to grow. The purpose of sharing the above is to say: "Yes! It is possible to make an income when you first get started, but it's not overnight". Following the training that I provide that focuses on avoiding the failures that I encountered can help you accelerate faster than I did, as long as you are consistent!
My Beachbody Coach Review YouTube Video
Check out my Beachbody Coach Review video on YouTube for some more details on what my purpose is, and what my thoughts are on the program:
If you see the value in joining Team Sweet Life as I did, click the link below and see our online presentation.

Beachbody Coach Review of the "Three Vital Behaviors" to Success
When I first got started, all I heard about was "Invite, Invite Invite". I took that the wrong way (lesson #1). I thought that meant I had to chase friends, family, and neighbors. When I realized that my close contacts could care less about P90X or Beachbody (or they had no idea what I was talking about), I got frustrated quickly. I even thought about quitting. I started to feel like this cheetah, chasing after people with no luck: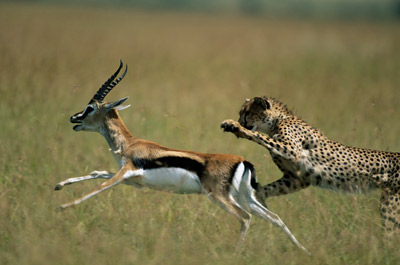 I learned that inviting doesn't mean harassing people and trying to make a buck (or two). I learned something very powerful from a mentor, that has served me well (and helped me increase the income you saw above):
If you help enough people get what they want, you will get what you want!
What a cool concept! After all, THIS is what Beachbody Coaching is all about: Helping other people achieve their fitness and health goals. But instead of chasing people, I just started sharing my journey with the fitness programs.
How to be Successful without Chasing People or "Selling" – Beachbody Coach Review
Through Blogging, Social Media (Facebook, Instagram, etc), and YouTube. I have met so many cool, motivated, and determined people who want to change their health. I share what works and
what doesn't for me in hopes that it will inspire others. I do not have to chase people, attack people, or bug them until they buy something. As a result of helping people with their fitness goals and helping my team build their businesses successfully, I got what I wanted:
Paid off my Chrysler 300 car 3 years early
Paid off my Student Loans
Build new friendships with some awesome people
Went to Walt Disney World and a 5-Night Caribbean Cruise paid by Beachbody
I hope you enjoyed my first Beachbody Coach review of many to come. If you are interested in taking your fitness to a new level, while earning an income working part time in your spare time, click the link and get started. If you want more information about our team (Team Sweet Life) and why we are the best, click here to view the webinar.
Because my team has grown significantly, I am selective on who gets to join my team, as I put a lot of passion and energy into help you succeed. If you are interested in Beachbody Coaching and are ready to change your life, fill out the form below and we'll chat more!
If you have any questions, comment below and let's chat.
Yours in Success,
Coach Bob