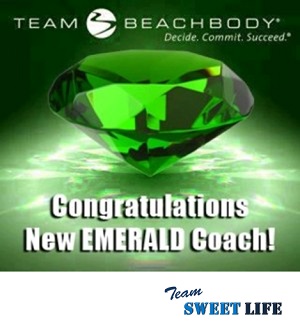 On Team Sweet Life, I always aim to have our new coaches strive for Emerald Beachbody Coach status first. Today I will share the importance, power, and even magic that goes behind being an Emerald Coach along with some other helpful tips.
An Emerald Beachbody Coach is the first leader rank you can get as a Beachbody Coach. Along with this rank comes many rewards, but also a great responsibility with Team Sweet Life! You are now an even greater motivator, inspirationalist (yes I made up that word), and mentor.
Even if you are still new and learning your way, those who have joined you in your journey are learning from your experience and journey, and that is exciting (even if you don't yet know it!).
How to Become an Emerald Beachbody Coach
If you aren't quite Emerald rank yet, here is how you become an Emerald Coach!
First, you will want to make sure you are an active coach, with 50PV per month (around $55 of product in the past five weeks). This means you are either buying or selling 50PV per month. Most (if not all) of the Coaches are drinking Shakeology daily to fuel their nutrition, which well-beyond covers the 50PV requirement anyway.
Second, in order to achieve Emerald Rank, all you will need to do is have two Coaches join you (and become active with the 50PV requirement themselves). As long as your two Coaches are active, you will become and stay Emerald and reap the benefits.
Where the Rubber Hits the Road: Emerald Beachbody Coach Benefits
Check out the below video, where I explore some of the best reasons to become Emerald and make THIS your very first Goal as a Team Beachbody Coach:


If you want to learn more about the Team Cycle Bonus I discuss in the video, Contact Me and I can share some videos that explain it (for those mathematicians :-))
Emerald Only Benefits
Customer Leads: Free customers from Beachbody. When someone orders over the TV or on Beachbody.com, they assign these customers to a Coach to help them achieve their goals. These coaches are Emerald rank and higher. Best part? Any future purchases they make entitle you to a 25% commission! In order to get Customer Leads: 1. Be an Emerald Beachbody Coach, 2. Ensure you are a Club Member within Beachbody and 3. Be Active with at least 50 PV of personal volume.
Team Cycle Bonus: Emerald Coaches earn $14 each time their team creates a cycle. This may not seem like a lot, but it adds up quickly. There have been weeks where coaches earn $100+ in just bonuses with our team (this goes into one of our strategies of leadership that I share when you're on board).
Is it Difficult to become an Emerald Coach?
Sometimes newer coaches may wonder what type of difficulty goes into getting a higher Coach rank. I will say that one of my secrets to success is proper training. I originally came into this business with a big ego thinking I knew everything. That was the wrong way to do it!
So, the short answer is NO, it is not necessarily difficult to become an Emerald Coach, IF you come in with a passion and dedication to succeed. Some of the first steps we take in Team Sweet Life when you join include:
Private Call with Coach Bob Sharpe (Leader of Team Sweet Life)
Entry into Coach Basics Training
Accelerated Diamond Program (where average earnings from this program alone = $700+/mo).
These benefits are all enjoyed working part-time in your spare time.
I hope you enjoyed my post on Emerald Beachbody Coach. If you are interested in becoming a Coach with Team Sweet Life, fill out the application for the accelerated apprenticeship, click the button below or Click Here to learn more.
Yours in Success,
Coach Bob Sharpe