If you are fired up about becoming a Beachbody Coach, or you already are a Coach – strap into this awesome roller coaster ride we are about to go on today. Today's Beachbody Coach training is all based on the FEAR OF REJECTION. Do you want to become a SUCCESSFUL Beachbody Coach? Then read on with today's Beachbody Coach Training on FEAR OF REJECTION!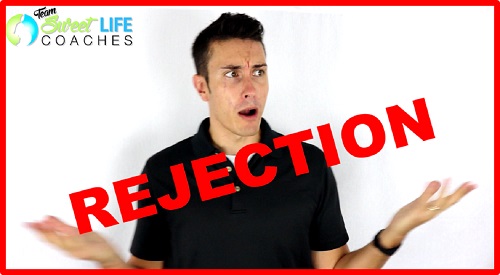 The BIG question of the day: What separates a SUCCESSFUL Beachbody Coach from one that…well, stinks (or rather, is Unsuccessful)?
FIRST: Consistency. Even the best coaches failed forward to learn their best method of operation and method of inspiration.
SECOND: Posture. Being able to handle and calm the REJECTION you'll get. This could be people who want to start their health & fitness journey. This could even be people who reject you with your invites to become a Beachbody Coach.
Your ability to handle and move forward from Rejection (meaning, your ability to eliminate the FEAR of Rejection), will jetpack you SO much closer to a successful Beachbody Coach.
What can you EXPECT as a Successful, Often Rejected, Beachbody Coach?
There are many reasons you will get rejected. Overcoming this fear and realizing it's because people are: (1) Not Ready (2) Don't have the money yet (3) Are negative nancys (4) Gave up on their own dreams will help you find the successful diamonds in the rough.
Here are the people you'll encounter in your SUCCESS journey:
I am ready to get fit!! Get me set up! – Then, all of a sudden out of the blue. They hide from you. They are quiet. The just stop communicating. Don't waste your time trying to find out where in the world Carmen Sandiego went…just find those who are TRULY willing to take action.
I want be a Coach! How do I get started? – You'll have those ready to get started as a coach! Same thing happens as the above issue. They go missing…for whatever reason, let's not waste time trying to figure that out.
I ordered a program, let's do this! – Woohoo! Congrats you are ready to get someone started. BUT…2 weeks in, they go missing! WHY? Life got in the way maybe….or, perhaps they just don't care anymore. Whatever the reason, be ready if they need your help, but don't try to chase them down if they aren't willing to put int he work any longer.
I am a Coach and I'm aiming for Emerald, Diamond, and Beyond! – You'll have coaches come on board. They ROCK! You'll have coaches come on and do NOTHING! You'll have coaches that come on and hit Emerald and Diamond…………..and then….they stop working it. They let life get in the way, they stop being consistent, and they might even let FEAR of Rejection get in their way. Always lend your amazing helping hand and remind them of their goals for being successful, but if they give up, that is their decision (as sad as it can be sometimes).
A FULLY BLOWN SUCCESS STORY! – YES! this is what everyone expects to happen. The person who is the dream person. They get a challenge pack, they lose a ton of weight and look and feel amazing. They become a 5 Star Diamond coach on your team. The truth is – these people are AMAZING! But, they are only a SMALL percentage of all of the people you'll interact with. Sort through the 4 individuals above, and you'll find your diamonds in the rough. Think about it this way: if you give up and let the fear of rejection drive you, you'll miss out on finding these key players! Keep inviting and keep getting rejected!! That's how you find diamonds!
Fear of REJECTION as a Beachbody Coach – The Video Tips
In today's YouTube video I'll walk you through how to successfully overcome the FEAR of Rejection as a Beachbody Coach:
Not a Coach Yet? Join my GROWING and Powerful Team!
Let's talk more. Learn more about my Beachbody Coach team in my FREE Online Video. If you're ready to become a Coach with me, you can apply and learn more within my FREE Video after clicking below:

Yours in Sweet Life Success,
Coach Bob