Today marks the first of many records. I have reached a new record Beachbody Coach Paycheck amount in one week. Before I go into detail, I want to lay out a little disclaimer. I want to be the furthest away from bragging about this and trying to impress people. Sure, it is exciting! But that isn't why I'm sharing it.
The reason I'm sharing my first record Beachbody Coach Paycheck (of many more to come), is to impress upon those who are interested in what I (and we) do on Team Sweet Life. I was the person that was looking prior to becoming a Coach for some realization on if this opportunity is legit and if I can actually earn an income only working part-time in my spare time. So this is for those who are just like me in search of legitimacy and a good team.
My Record Beachbody Coach Paycheck (So Far…)
I was excited to wake up and check out my paycheck during this week (December 2013). We get paid as Beachbody Coaches every Thursday, and I have my pay set-up in direct deposit. While there are weeks I have averaged $100-400 per week (starting out), this week was special as it marked my first (of many more to come) record!
Here it is:

This is what the $973.89 is broken down to (notice Team bonus of $70 – this is just a pure bonus from helping Leaders Lead in Team Sweet Life!)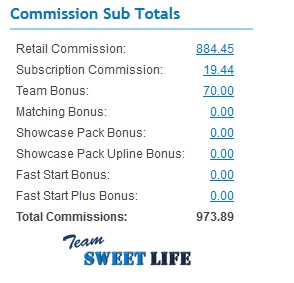 Now that I have broken the $900 in one week mark, my next goal is the $1000 per week mark, and then…$2000 per week. It is do-able, and that is what I'm going to talk about next!
Now of course, I need to share this part. But it's almost a "duh…" – of course you need to work hard! If you don't, you won't earn anything!!
Beachbody does not guarantee any level of success or income from the Team Beachbody Coach Opportunity. Each Coach's income depends on his or her own efforts, diligence, and skill. See our Statement of Independent Coach Earnings located in the Coach Online Office for the most recent information on our Coaches' actual incomes. The Statement of Independent Coach Earnings can be found here
How you can Maximize your Beachbody Coach Paycheck Starting as a New Coach
I am going to share some tips that I have used in obtaining this record so far. I'm far from being "lucky", and there is work involved. I say this for those people who think this can be an overnight, sit back and watch the money flow-in business. While I do work this business part-time in my spare time, the key-phrase is: "I work this business".
Here are my tips. If you are interested in jumping on board with Team Sweet Life Beachbody Coaches, Click Here to view more.
Do NOT Give UP: This is always a big tip of advice. There will be times that you WANT to QUIT. There will be times you get frustrated. But what separates the successful from the unsuccessful is that the successful never quit. I can tell you at least three times I seriously thought about quitting. I was ready to quit. But I didn't. If I would have quit, I would have never achieved my record Beachbody Coach Paycheck I'm sharing today.
Get SERIOUS About TRAINING: I had a big ego and thought I knew everything when I first started. That is why I wasn't successful in the beginning of my coaching career. If you drop your ego and focus on learning what we provide within Beachbody & Team Sweet Life, and work on your own personal development, you TOO can achieve this income.
Follow the Three Vital Behaviors: 1. Invite, Invite, Invite 2. Become a Product of the Product and 3. Personal Development. I show my coaches how to do all three of these. The secret to success is consistency until you get what you WANT. Also, be sure #1 doesn't mean spamming Facebook with quotes like "Join me I will help you blah blah blah". Chances are, you'll get a bunch of crickets chirping with no responses. I share how to invite easily and with action in our Team Sweet Life training materials.
If you are a Coach – YOU can do this, I have faith in you. If you are NOT a Coach and are interested in joining Team Sweet Life, check out our Beachbody Coach page where you can learn more – fill in your name and e-mail now:
Thank YOU for stopping by and check out my post on my record Beachbody Coach Paycheck.
Yours in Success,
Coach Bob Sharpe