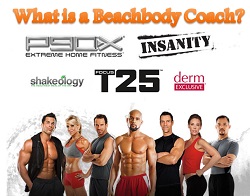 The big question that often comes around when people visit Sweet Life Fitness is, What is a Beachbody Coach?
Are they fitness trainers? Gym coaches? Sales people?
None of these are true. Really? Yes.
Today I will share all about What is a Beachbody Coach and what they do. Also, I'll share what to expect upon signing up with our Team Beachbody Coach team, which we call: "Team Sweet Life".
What is a Beachbody Coach – The Term "Coach" Is Confusing!?
If you are like me, you probably think a Coach needs to be in fantastic shape, and able to train people on P90X and INSANITY. What I found out after being involved as a coach for two years now is, Beachbody Coaches are more of a MOTIVATOR than a Drill Sargent Coach.
No need for a fitness degree, nutritionist degree, or anything of the sort (although some fitness professionals make a good living with Beachbody Coaching). Most of us are average people sharing our journey and motivating others.
I share what I mean by what a Coach really is in my latest video. Check it out here:
Misconception about Beachbody Coaching
As I mentioned in the previous section, a Beachbody Coach does not become some super expert or fitness professional. In fact, to make it easy, here are some basic points about what a Beachbody Coach actually does:
A Coach Takes the First Step Forward and Shares their Journey – Even if you aren't at your ideal body physique yet, who cares! People like you are looking for someone to relate to, and you can connect with them.
A Coach Connects with New People (Think: Social Media) Daily – You earn a 25% commission on sales of products. But instead of SELLING products like a sleazy salesperson, sharing your journey can help inspire others to take their first step. As a result, you share your tips, they join and get their product, and you profit. If you become a Coach with us, I'll help share the training on how to share your story and journey, rank at the top of search engines, and reach new people each day.
What is a Beachbody Coach – Should You Do it? Can You Do It? How You Can Do It
If you:
Want to get fit and healthy
Want to STAY fit and healthy without the typical up and down rollercoaster of weight loss.
Want to live a healthy and fulfilling life
Want to help inspire others to do the same
Want to earn an income part time in your spare time
Then you should consider becoming a Coach. If you are only in it for the money, or don't really care, then don't join. But if you are serious, patient, and able to embrace training no matter what failures come your way, you will be a highly successful coach.
To learn more about becoming a Beachbody Coach from A-Z, check out our Team Sweet Life Presentation. Here is where you can ask questions and connect with all of us (also feel free to contact me on Facebook).

I hope you found this post on "What is a Beachbody Coach" helpful in your search!
Yours in Making Fitness Fun,
Coach Bob