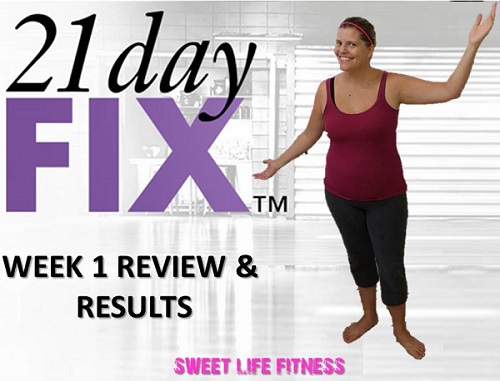 Hey everyone, Coach Cristen here! I have finished my 21 Day Fix week 1 and I feel like I have finally found the program for me! I have a hard time sticking to an hour long workout with a toddler running around the house and tend to get bored with a 90 day program after repeating the same workouts for 3 months at a time. Meal prep has always been a last priority and while we tend to eat healthier foods, I still feel our portion control was way off base. So I decided to give 21 Day Fix a try to help me get back on track with my fitness and eating! Check out my 21 Day Fix week 1 review below along with my video and results!
 21 Day Fix Week 1 – My Results
I made sure I followed the workout schedule to a "T" and got my workouts in each morning just a little after we finished breakfast while Mickey still had the attention of my 3 year old daughter (fellow moms can relate); Although she does like to come in and exercise with us sometimes but only sticks around for a move or 2. I ate only from the lists provided and divided up my containers each day. I did really well with the meal planning for the day I would not be home for half of my meals.
Let me tell you…I have NEVER gotten this kind of result in such a short time with the many other programs I have tried in the past. Here are the results:
Total Pounds Lost – 21 Day Fix Week 1: 2 pounds!
Total inches lost on waist – 21 Day Fix Week 1: 2 inches!
It may seem small to some people but to lose the extra I have, it starts with the first pound. My husband had gone away for 3 days this week and he noticed a difference as soon as he saw me without me having to measure or step on a scale. Talk about motivation! After just 7 days of exercise and portion controlled clean eating, I have some progress towards my goal.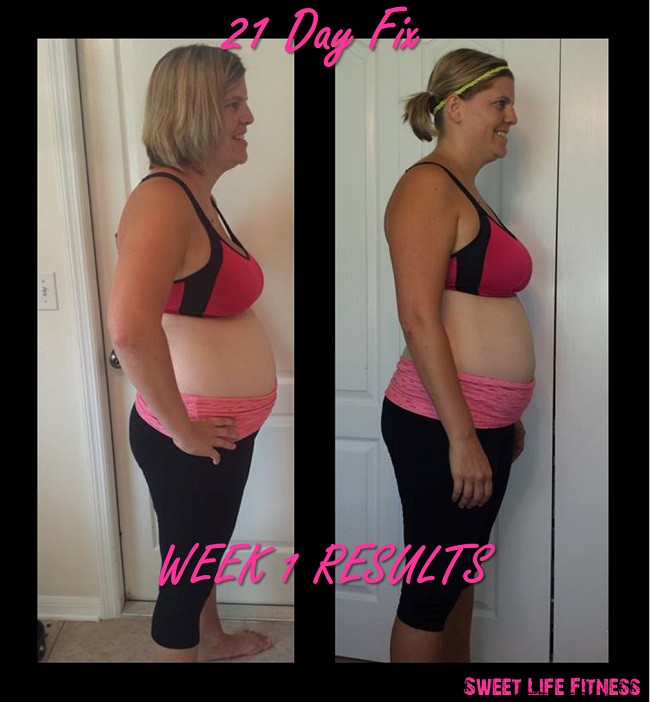 21 Day Fix Week 1 Workouts Review

Each day you do a 30 minute workout targeting a different area. Each workout is broken down into sets of 1-5 moves. Each move lasts for one minute long and her mantra during each day is "You can do anything for 60 seconds!" So let's say the first set is one minute of curls and one minute of sumo squats. You do each move once for a minute and then repeat them each one time in the same order. Then she transitions into a new set of moves and does 3-4 sets each session. What I like most about the way the workouts are set up, is that it makes the 30 minutes seem to go by fast because it is broken down.
The workouts in this program are:
Total Body Cardio (This is the Day 1 Workout) – weighted cardio moves to work every part of your body
Upper Fix – get the awesome strength in your upper body
Lower Fix – leg day is always fun!
Pilates – huge workout for your core
Cardio Fix – planks, squats, lunges, no weights needed
Dirty 30 – the hardest workout of the week and she admits it!
Yoga – a nice relaxing 30 minutes
10-Minute Fix for Abs (this one is on the list for doubles week during week 3 so I haven't gotten to it yet)
21 Day Fix Equipment Needed:
You will need a yoga mat, 2 sets of weights (which she calls a light and a heavy, I used 5 lbs and 8lbs) or a resistance band for many of the workouts.
The Meal Plan for 21 Day Fix Week 1 Review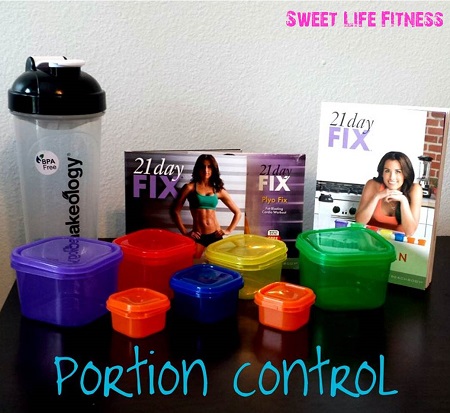 One of my biggest struggles with other plans, is they give you a calorie guideline and some recipes to follow. 21 Day Fix gives you an eating plan with portion control where you don't have to count calories or macros or really track what you eat, you just eat!
The system comes with 6 different colored containers, one for each food group. The Eating Plan gives you a breakdown to figure out how many calories you need in a day and then how many of each container you need to fill in a day. No having to worry about how many calories are in that turkey burger or omelet. If it fits in the containers, it fits in your plan!
I was able to still eat my 2 egg omelet with spinach mushrooms and onion in the mornings during my 21 day fix week 1; I just cut out the cheese in exchange for some feta in my salad at lunch or some cashews with my snack. There is also a list of sometimes allowed foods where you have wine, milk, fruit juices, chips, chocolate, and even cookies (which she includes recipes for). Following the guide and this list, I actually made myself nachos one night! Best part of the eating plan, is you get to eat every 2-3 hours so you don't get hungry.
When I first looked at the containers, they looked so small! I thought, "There is no way that just a few containers each day are really going to fill me up", until I started to plate my food. For lunch one day, I had some grilled chicken, sweet potatoes, and fresh cut veggies with some homemade Italian dressing to dip them in. Look at the difference the amount of food looks from the containers to the plate. I was full by the end of that meal even though it didn't look like much at first.
21 Day Fix Week 1 Review Video
Check out the video of my review on Week 1 of the 21 Day Fix program!
Join me and Team Sweet Life Fitness on 21 Day Fix! All orders come with free access to our FB groups where we help keep you motivated (and you join me and Coach Bob on the journey too!). My suggestion is to get the Challenge Pack to save the most money, and you'll also get all of the resources that I used to combine everything you get in your kit to make your Week 1 successful!


I am really looking forward to see what the next 2 weeks will bring me with this journey. Stay tuned for my week 2 and week 3 results posts to see how far I have come and where I am still headed.
I hope you enjoyed my 21 Day Fix Week 1 review. Comment below if you have any tips for me or questions about this program! Look forward to hearing from you soon! If you are thinking about starting 21 Day Fix – join me and Coach Bob free! We host an online Facebook group that helps keep us all motivated while we get the results we deserve.
Yours in Pink Sweat,
Coach Cristen