There is something you can now add to your daily serving of Shakeology called the Shakeology Boost. The goal of these supplements are to boost certain health aspects of Shakeology. There are no artificial flavors, sweeteners, or preservatives in any of the three Shakeology Boosts. I look at these as the elite nutrition that only enhances the good points of the Shakeology nutrition shake.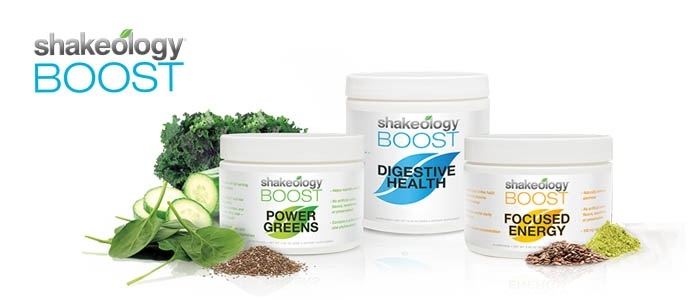 What are the three different Shakeology Boost Options?
There are now a total of three different Shakeology Boost options: Focused Energy, Power Greens, and Digestive Health. Add one, two, or all three of these to your serving of Shakeology for ultimate health benefits.
Focused Energy Shakeology Boost is designed to give you a gentle, less acidic energy boost to get through the day focused and confident. Coffee can carry a high acidity (even without the extra sugar and creamers). Focused Energy uses natural caffeine from Guarana and Green Tea, with the adaptogens of reishi and rhodiola. This is NOT like a pre workout, but rather a natural energy boost in replacement of your morning coffee (coffee is a good thing, but see my coffee vs water and why I'm now taking this Shakeology Boost daily).
Power Greens Shakeology Boost is definitely legit, and will turn most of your Shakeology drinks green! Cucumbers, kale, spinach, and celery are in one serving of this boost. If you are not a big fan of veggies or are consistently struggling to get your vegetables in, add this into Shakeology for an additional boost of what you need in your daily nutrition profile.
Digestive Health Shakeology Boost is the one boost I got on home direct (meaning I get this shipped to my house monthly). The reason behind my decision is that digestive health gives you both soluble and insoluble fiber. This means your intestines and colon gets the deep cleaning (without it being a laxative…) on a daily basis thanks to the insoluable fiber (even benefiber and Metamucil cannot beat this!). After losing my father to Colon Cancer in 1995, I do whatever it takes to ensure my fiber and colon is clean and running well. After 3 weeks of taking this boost daily, my stomach has never felt better. No more aches, cramps, or BS.
See a fun video by the man Tony to give you an overview of the Shakeology Boost:
Wait…Does this mean Shakeology by itself is not good?
NO not at all. The formulators of Shakeology have always aimed to provide additional health benefits and formulations. In fact, in 2012 they made a significant increase and change to the formula which changed the flavor of Chocolate to the point people cancelled.
So what does that mean?
The boosts are for those who want to take their nutrition to the NEXT level. Some people have adverse reactions to certain nutritional ingredients, so the idea is to keep the boosts separate for those who want to add them. Plus, if you give someone that has been a BAD McDonalds fast food junkie (like I used to be…see my Shakeology Review), they will HATE Shakeology.
Why? Because having a consistently bad diet will not meet well with the higher nutritional load of Shakeology PLUS the Boosts right off the bat. I suggest starting out with Shakeology and then adding the boosts replacing the coffee, adding the veggies, and then focusing on fiber. If I had to choose, I would first get the digestive health (based on my focus as I mentioned above with my Father), followed by the Focused Energy (to kick my coffee addiction). In fact, that's exactly what I did 🙂
What does Coach Bob do??
I have now moved my Shakeology as part of my breakfast routine (and now use Beachbody Performance for my workout supplements). Here is what my recipe looks like for my morning food:
1 Scoop Chocolate Shakeology
4 Ice Cubes
1 tbsp Natural Peanut Butter
1 banana
1 scoop of Focused Energy Shakeology Boost
1 scoop of Power Greens Shakeology Boost
1 scoop of Digestive Health Shakeology Boost
I blend it up and enjoy. Calories are around 300 or so, which is PERFECT as a meal replacement and even added CLEAN calories if you are adding muscle like I am currently.
Shakeology Boosts: The Costs
All of these products are now available to get either as a one time shipment to use when you need them, or as a home direct option to get them monthly with your Shakeology.
Have you tried the Shakeology Boosts? Or, do you have questions? Comment below and let's chat!
To your Success,
Coach Bob