P90X is the Extreme Home Fitness program that revolutionized the home fitness arena. The program was originally launched in 2003, and well over 10 years later, is still transforming people's lives.*
What is P90X?
P90X stands for Power 90 X-treme. The program, fueled by Fitness Trainer Tony Horton, combines 12 different DVDs into a 90-day program. The program features the P90X Nutrition Guide, along with a day-by-day plan on what to do to achieve the results you want. It takes the guess-work out of going to the Gym, and costs a lot less!
Learn more about P90X through this short video:
Why is this program so effective?
P90X uses a concept called Muscle Confusion. Have you ever tried to lose weight or get fit before, and then end up feeling like you aren't going anywhere after a few weeks? This could be a result of a plateau. A plateau is where your body and muscles stop being challenged, and practically "maintain" what you've worked hard to achieve. With this program, Muscle Confusion keeps your muscles and fat-burning ability in high gear by introducing new moves and schedules of the workouts consistently.
Who is the Program best Suited for?
P90X can work for anyone, thanks to the many options that the program provides. For example:
Anyone who wants to lose weight: Using the nutrition guide and the selected schedule, you have the ability to burn fat at a faster rate
For Women who want to be slim and sexy: Follow the Lean Schedule routine and focus on getting that Beach-Ready body!
For Men who want to bulk up: Follow the Classic or Doubles schedule routine along with Tony's tips to pack on more muscle!
What do you Get with P90X?
In the program, you will receive:
Fitness Guide (to get the most out of the program)
Nutrition Guide (comprehensive 3-phase guide to help you take the Guess-work out of eating right)
How to Bring It! Video (Tony takes you through each step to maximize your results)
90-Day Workout Calendar (Track your progress and schedule with this handy bonus)
Twelve (12) DVDs including Kenpo Karate, Plyometrics, and Ab Ripper X.
Plus, when you order through SweetLifeFitness.net, you get bonuses that you can't get anywhere else:
INCLUDED: P90X+, an exclusive 4-DVD bonus program ($59.90 value, yours FREE)
INCLUDED: P90X One-on-One 2-disc DVD set ($40 value, yours FREE)
INCLUDED: Personalized Team Beachbody Account and Free Personal Coaching from Coach Bob Sharpe of SweetLifeFitness.
30-Day Money Back Guarantee!
BEST VALUE – P90X Challenge Pack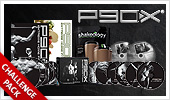 With the Challenge Pack you will receive everything above PLUS:
Your first 30-day supply of Shakeology®—the superfood shake that helps give you energy, reduce cravings and accelerate your fitness results—delivered on Home Direct, our monthly autoship program.*
A FREE 30-day trial membership in the Team Beachbody® Club, where you'll find all the support you'll need to complete your Challenge.**†
Plus Super Discount shipping (and SAVE OVER $12) every month
Your Sweet Life Fitness Challenge Pack Discount Price: $205


P90X – Base Package Option
The Base Package comes with the program you need for P90X amazing-ness. Also includes BONUS P90X+ workouts and 2 free bonuses from Sweet Life Fitness!
Your Sweet Life Fitness Price: NOW ONLY $119.95


P90X – Ultimate Package Option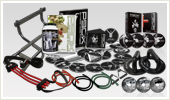 Along with your P90X® Training System, you'll get a Chin-Up Bar to help build that ripped upper body, and our new Chin-Up Max, a breakthrough tool used with your Chin-Up Bar to help offset your body weight so you can work your way up to doing more reps. Plus, you'll also get Tony Horton's PowerStands® to help lessen the strain on your wrists and achieve the perfect push-up, as well as 3 additional P90X ONE on ONE® Advanced Workouts—like getting a personal training session with Tony. Also included is a month's supply of Results and Recovery Formula®—a delicious shake that helps you refuel, reenergize, and reduce muscle soreness after workouts*—along with three heavy-duty resistance bands† to maximize your results. Select Heavy Bands to receive Black, Green, and Red (30–50 lbs.) or Medium Bands to receive Pink, Magenta, and Orange (15–25 lbs.).
Your Sweet Life Fitness Price: $329.55


Remember that I am here to help you achieve your goals! When you purchase Focus T25 and select Coach Bob as your Coach (by purchasing here on Sweet Life Fitness), you get my support, access to private Facebook group, and more. My Mission: To help you get the Results you Deserve while you aim to live your desired "Sweet Life" of Fitness!
Results may vary. Exercise and proper diet are necessary to achieve and maintain weight loss and muscle definition.
†Resistance bands contain natural rubber latex, which may cause severe allergic reactions.