Now Available! Diets are annoying. Right? That is why you'll never have to worry about dieting again thanks to the 21 Day Fix! The 21 Day Fix system makes losing weight so simple, you can get rid of that old "diet" mindset forever.
The 21 Day Fix system takes the guesswork out of weight loss. It's a unique portion-control system combined with easy-to-follow workouts that fit into anyone's busy schedule. Trainer Autumn Calabrese (bikini model competitor and fitness trainer) shares her passion for food and fitness as she shows you how to make simple choices that add up to life-changing results.
Better yet: this program works for everyone! From those who have a passion for fitness, to those who never exercised a day in their life (but want to lose weight!)
What is the 21 Day Fix? Video Review
Check out this great video that explains the REAL details of the 21 Day Fix.
21 Day Fix – The Nutrition Plan
One of the most unique and powerful points on the 21 Day Fix is the nutrition plan.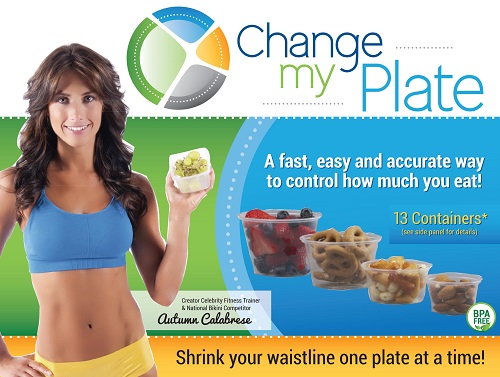 The nutrition plan is fantastic. Why? It takes the Guess work out of counting calories and dieting. You get 13 different containers and a nutrition guidebook that explains it all simply and easily. All you have to do is ensure you don't eat more than is in the containers (while also following the nutrition guide).
Combining the nutrition plan with the program lines up for a great way to lose weight, and only in 21 days.
21 Day Fix Review of the Frequently Asked Questions
How Many Days will it Take me to Lose Weight? Just 21?

Results vary from person to person based on their capacity. Because this program has multiple options (not just the same DVD each day), you can do more than one round (one round = 21 days). You can use this until you get in the ideal shape that you are after!

How Long are each of the workouts?

Each workout is only 30 minutes long. Plus each day is different. You don't always just do the same old boring working each day. Every day is different!

What are the 21 Day Fix Workouts?

Total Body Cardio Fix
Upper Fix
Lower Fix
Pilates Fix
Cardio Fix
Yoga Fix
Dirty 30 Workout

What does the Nutrition Plan cover?

Luckily there is no restricted foods or fad diets, it's all about portion control. You will receive 7 containers that help with portion control. This makes it super simple to eat right without overeating!
Do you have more questions that weren't answered? Comment below and ask, and I'll get right back with you.
What do you Get with the 21 Day Fix Program?
Workouts: 7 workouts on two DVDs (as noted above in the FAQ)
Exclusive Nutrition Guide with 7 Containers: To make nutrition easy to follow and effective.
Workout Calendar and Guide
Shaker Cup
BONUS: Free 24/7 Online Support and Coaching from Coach Bob (when ordered through this website)
BONUS: Additional meal planner and recipes
BONUS: Only when ordered here, get a FREE bonus DVD, Plyo Fix ($19.95 value) just by ordering here at Sweet Life Fitness!
Also, if you want the BEST value, get the 21 Day Fix Challenge Pack. It will include everything above PLUS Shakeology, the nutritional meal replacement shake that fits perfectly with the 21 Day Fix program. Plus, you'll save money and get 21 Day Fix at a package discount!