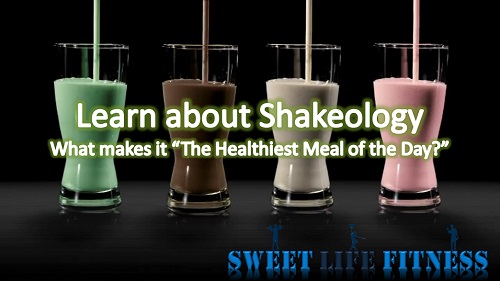 Shakeology has the slogan of "The Healthiest Meal of the Day". What exactly does that mean, and is it really the "healthiest"? On this page we'll explore everything that has to do with Shakeology so that you can make the right buying decision on this shake.*
To start off, I do sell Shakeology here on Sweet Life Fitness. But I'm not here to sell you on the product, YOU need to make sure it is right for you! So, I put together this information so you can understand WHAT this shake is, HOW it works, and WHY I recommend it. As always, contact me if you have more questions that I didn't answer.
What is Shakeology?
Shakeology can function as a meal replacement shake. If you are trying to figure out how to eat healthier and lose weight, you can replace a meal with this shake. For me personally, I like to replace my Lunch with Shakeology (I have a special recipe I blend with Shakeology that makes it super tasty).
According to the USDA, we need about 9 servings of fruits and vegetables each day. Think about how tough that is (unless you are a super eater!)
If you think about the foods you need to eat to "stay healthy", you'll quickly realize how EXPENSIVE it is to eat healthy. Let alone all of the fiber, wheat, superfoods like blueberries and acai, and protein you need per day. Add that up, and you'll be spending more money that you probably want to!
Comparing all of the ingredients in ONE serving of Shakeology, you'll be spending about $50 per day – yikes!. One serving of Shakeology is about $4.33. So instead of $50, you get the necessary ingredients you need to maximize your healthful eating for just $4.33 per day.


Check out this video with P90X star Tony Horton to get another understanding of ingredients vs price (can't see the video? Click Here).
Results with Shakeology – Is it Really the "Healthiest Meal of the Day?"
Shakeology was launched in 2009. Prior to launch, Beachbody (manufacturer of the shake) held an independent study. The study took place and the results came in as the following*:
Participants lost 10 pounds on average.
Participants cut cholesterol levels by 30% on average.
Realized improved digestion and regularity
These participants were all closely monitored by a doctor throughout the entire process.
But then in 2013, another study happened. It was time to REALLY see if Shakeology was indeed "The Healthiest Meal of the Day". This time, instead of 60 participants, a total of 2.769 Shakeology users participated in this study. The results came in as follows:
93% feel healthier since drinking Shakeology
72% say that Shakeology has helped them lose weight
86% feel Shakeology has helped them increase their energy
81% feel Shakeology has helped them reduce their cravings for junk food
81% say Shakeology helps keeps them full until the next meal
82% reported improved digestion

Important Frequently Asked Questions about Shakeology
Is there a Vegan Version, and is it non-GMO ingredients?

Absolutely, there are vegan versions of Chocolate and Tropical available. All ingredients are non-GMO, and all-natural. No herbicides or pesticides of any kind are used on the ingredients that go into the shake.
What are the different Flavors?

SEVEN Flavors are Currently Available: Chocolate, Vegan Chocolate, Greenberry, Vanilla, Tropical, Cafe Latte, and Strawberry
Can I ACTUALLY Lose Weight with this Shake?

It depends on you! I always recommend exercise along with the shake for optimum results, but if you cannot exercise, this shake can work. The trick is how you incorporate it with your diet. If you order from SweetLifeFitness.net (this website) I will include personalized support on how you can use Shakeology to your advantage to achieve your health goals*.
Are there Any Discounts Available?

There are a few. First, if you order the Shake on auto-ship (meaning you get it delivered to your door each month), you'll save on Shipping costs (and can cancel at any time).
Team Beachbody Club members save 10% on all products. The club costs $38.87 per quarter (about $2.99 a week), but combine it with Shakeology and you'll save some money. Click here to get the Team Beachbody Club Membership.
Team Beachbody Coach. While the Team Sweet Life Coaches are leaders, you can be a Coach just for the discount. Coaches save 25% off Shakeology each month. It is $39.95 to start as a Coach, and then only $15.95 per month. Click Here to become a Coach and save 25%.

I Travel a Lot – How can I use Shakeology?

I recommend getting the 24 individual serving packets versus the monthly bag. The packets are small and can travel wherever you go. You can also get Shakeology Shaker Cups to mix up the shake in either milk or water each day.

Coach Bob – Do YOU Use Shakeology Daily?

Speaking honestly, as I mentioned above, it is my lunch daily. If I had to give up all supplements except one, Shakeology is what I would keep. Getting the right nutrition is crucial. Forget the Omega-3 supplements. Forget the protein shakes. This Shake has it all included. I have been drinking the shake daily since November 2011.
Have any other questions? Comment below and let me know.

Try Shakeology with the Guarantee
I hope you learned more about Shakeology on this page. You can now try Shakeology with the "Bottom of the Bag" guarantee. This means you have 30 days to try Shakeology. If you do not like it, or it doesn't work, you can send it back for a full refund (less s&h), even if the bag is empty!
Comment below with questions. Otherwise, if you are serious like I am about getting the right nutrition to live a healthier life, order Shakeology by clicking the button below.

See More about Shakeology:
Yours in Health Success,
Coach Bob