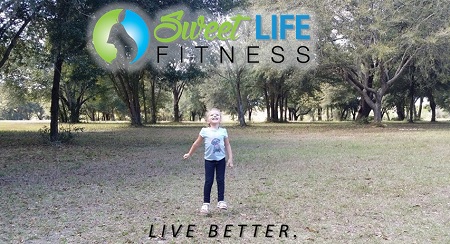 Think with me for a second. Take a moment to reflect. Think about your goals in weight loss, fitness, and looking/feeling great. Picture yourself in that "ideal state". What does that look like? That is your Sweet Life!
Simply put, we like to achieve the Sweet Life and:
LIVE BETTER.
Did you ever hear someone say they want to "Live the Sweet Life" or someone is living "The Sweet Life"? When it comes to fitness, what is your "Sweet Life"? This again, is what we are all about. The goal is to help YOU achieve your Sweet Life Fitness goals without any HYPE and living better.
What is HYPE?
You know, those people that tell you "it is easy". The same people tell you that you have to work out 5 hours a day in the Gym. The people pumping Creatine, Whey Protein, and lifting 100 pounds.
Seriously. Cut the Crap.
Sweet Life Fitness is about helping you LIVE BETTER without the Hype, and with a lot of FUN and Community. We will work together to achieve your Sweet Life, whether you are a beginner, or an athlete looking for the next challenge. We do not judge, we only motivate.
Sweet Life Fitness was founded by Team Beachbody Coach Bob Sharpe, and is powered primarily through Team Beachbody. We focus only on at-home or community workouts. No gym, no hype, no BS.
Sweet Life Fitness Core Principles
Here are the core principles that make Sweet Life Fitness your go-to web source!
We Make Fitness Fun: Fitness and Working out isn't always fun. In fact, at times it just plain stinks. So we make it fun. Through our community we chat, laugh, talk about other random things, and create smiles. If we aren't happy and having fun, what's the point of The Sweet Life anyway?
No Hype Fitness: We all have struggles. I myself (Coach Bob Sharpe) struggled with weight loss for years. My goal is to give it to you REAL through this site. Get the tips, tricks, and strategies to succeed, not to get overwhelmed or disappointed.
Fitness is a Community Effort: Join the community of Sweet Life Fitness. Online, we reach thousands of people. Connect with us on Facebook, get involved in our Team Beachbody community, and let's build long-lasting relationships. We are all going to fall down at some point. It's a part of life. The community helps you get back up through compassion, motivation, and love.
Results Happen through Hard Work and Consistency: We don't lie. There is no overnight magic pill. The true results come to those who make a decision to stay, and most importantly stay Consistent (I bold that word because it is the secret of life). If you put in the effort, get excited, know what you want, and go for it, you WILL succeed.
We LIVE BETTER and achieve our Sweet Life: Perhaps you aren't living your envision of "The Sweet Life" yet. That is OK, but make every effort to LIVE in the Sweet Life now. Picture yourself in your ideal situation, fitness and financially related. Live it everyday so that you are reminded of that burning desire to succeed in everything you do.
Join Team Sweet Life Fitness
As mentioned above in the core principles of Sweet Life Fitness, we are a COMMUNITY. Put the skin into the game by joining us today. You can start off by joining our Team Beachbody community and gaining free Coaching from Coach Bob Sharpe. If you want to go All In and join our leadership community, become a Beachbody Coach on Team Sweet Life today.
Here is to YOUR Sweet Life,
Coach Bob Sharpe