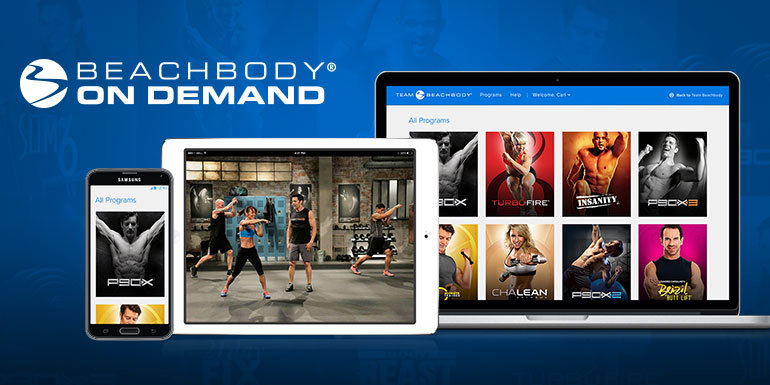 It is here and completely and amazingly AWESOME! Beachbody on Demand now allows you to stream unlimited workouts from your favorite programs. Whether it's P90X3, INSANITY, or Chalean Extreme, you'll be set with Beachbody on Demand. We are talking FULL ACCESS and UNLIMITED ACCESS to now over $3,100 worth of programming.
Unlimited access to the BEST Beachbody Programs. INSANELY low price. All you need is a WiFi connection with a computer, phone, tablet, RoKu, Amazon Fire TV, or Chromecast.
This membership gives you access through your phone, tablet, computer, and/or browser-enabled TV can access unlimited workouts.
WHAT!?! That is an AWESOME Deal! How do I get Beachbody on Demand?
Beachbody on Demand is included with the Club Membership with Team Beachbody. As of right now, the Club Membership is only $2.99 per week (billed quarterly at $38.87 USD).
Best Value: if you want the nutrition support along with access into our Exclusive 30-Day Support Group, there is a Challenge Pack that includes Shakeology for only $140 (Shakeology alone can cost up to $144, so this gives you your first 90 days to On Demand practically for free!!).
Beachbody on Demand Video Preview
Check out this video on what Beachbody on Demand is all about:
Keep in mind, when you decide to become a Club Member with Beachbody on Demand, you also get access to our Team Sweet Life community and my FREE and focused fitness coaching and support every step of the way!
The Big Difference:
Club Membership: $38.97 USD each quarter (access to P90X, P90X2, P90X3, INSANITY, 10 Minute Trainer, Chalean Extreme, Brazil Butt Lift, and more).
Buying Each Program Separately: $40-120

per program!
What Programs are Available on Demand?
Programs are added consistently, but here is what is available at your fingertips so far:
P90X, P90X2, P90X3
INSANITY
Tai Cheng
INSANITY the Asylum: Volume 1 and 2
TurboFire
Brazil Butt Lift
P90X One-on-One Series
Hip Hop Abs
Chalean Extreme
Important Items to note regarding Beachbody on Demand
Do you need to BUY the programs in order to stream them?
Absolutely NOT. You get the full digital library that is available for the select programs with the Club Membership
Are there extra costs per workout that you watch?
No hidden fees or shenanigans. Club membership includes unlimited streaming of the library.
Can I stream the workouts on vacation, even if I go international?
Yes! With a valid wifi and internet connection, Beachbody comes with you. No more packing up the Beachbody DVDs!
Can we Download the Workouts?
No you cannot download them, but the programs will be in the digital library.
What about Chromecast and Roku?
Yep! Chromecast, Roku, and Amazon Fire TV are integrated!
Get ready to ROCK Beachbody on Demand today:
Beachbody on Demand – Coach Bob's Video
Even I did my own little behind the scenes preview of Beachbody on Demand!
Questions? Just comment below!
Yours,
Coach Bob