You are NOT alone. All P90 program purchases come with FREE Support and bonus workout DVDs just by ordering from Coach Bob here at Sweet Life Fitness. I can't wait to help you achieve the results you deserve!
Have you ever wondered how to get started right with fitness and losing weight? Concerned that something like P90X is either too long or too extreme? Who says you have to go extreme to get results? P90 can help you get the results you deserve in just 25-45 minutes per day.

90-Day Body Transformation for EVERYONE


Extreme programs like P90X® aren't for everyone. So welcome to the all-new P90—your gateway to getting fit regardless of your age or fitness level! Legendary trainer Tony Horton has now created shorter workouts that are simple, doable, and less extreme than his others, but still just as effective. So whether you haven't worked out in a decade, or you're just looking to maintain what you've got, P90 opens the door for you to see dramatic, visible results in just 90 days—without the pain!
Your P90 program includes:
10 WORKOUTS IN 3 PROGRESSIVE PHASES
PHASE A — Shapes the foundation:
Sculpt A (28 min.): Gets your body ready to get strong
Sweat A (25 min.): Melts that fat that's been holding you back
Ab Ripper A (8 min.): Adds power and definition to your core
PHASE B — Overpowers your limits:
Sculpt B (31 min.): Builds endurance and lean-muscle growth
Sweat B (32 min.): Cranks the calorie burn even higher
Ab Ripper B (14 min.): Carves slimmer, rock-hard abs
PHASE C — Completes the transformation:
Sculpt C (42 min.): Defines your body and puts results into overdrive
Sweat C (36 min.): Burns fat and tests endurance like never before
Ab Ripper C (15 min.): Puts the final touches on your lean, sexy six-pack
BONUS WORKOUT:
Saturday Special (25 min.): A superefficient, high-velocity sweat-fest that will help you get your weekend workout done—and done right—in a hurry
PLUS 3 POWERFUL BONUS TOOLS:
Simple Kitchen Nutrition Guide. No complicated shopping lists. No calorie counting. Just everything you'll need to put together 90 days of healthy meals you'll love to eat.
4-Step Power Plan. Do these four things on Day One, and you'll dramatically increase your chances of success. Think of them as Tony's Golden Rules for getting AMAZING results.
"How to Hit It" Tutorial. Get ready for a private introduction to P90 with Tony himself—including insider workout tips he usually only shares with his celebrity clients!
AND MORE…4 FREE GIFTS:
GIFT #1: Pro-Grade Resistance Band. Forget buying weights! You won't believe all the ways Tony sculpts your body by adding this easy-to-carry tool to your moves. Looks simple…but it's pure workout power!**
GIFT #2: 6-Day Shred. Want REAL results in a hurry? You won't have to wait long with this FREE Bonus Gift. See why we call it the Fastest Body Transformation Ever!
GIFT #3: 90-Day Workout Calendar. The secret behind P90 isn't just the workouts—it's doing them in the right order. Cross off every day as you get closer to the body you really want.
GIFT #4: 24/7 Online Support. Imagine having a whole team of fitness experts available through your phone or tablet. Hit them up for answers or fitness tips…even join in on Tony's live chats!
AN ADDITIONAL FREE WORKOUT
P90X3

®

Dynamix. It's Tony's secret weapon for helping you increase your range of motion, flexibility, and stabilization—all vital for maximizing your total-body fitness results. A $19.95 value—FREE when you order P90 through your Coach or Team Beachbody

®

.
AND A 30-DAY MONEY-BACK GUARANTEE:
Tony's so sure you'll get visible results with P90, he's giving you a 30-day money-back guarantee. If you're not completely satisfied for any reason, simply call Customer Service for a Return Authorization number, and return it within 30 days, and he'll give you a full refund of the purchase price, less shipping and handling, no questions asked.
Consult your physician and follow all safety instructions before beginning this or any exercise program.
P90 Base Kit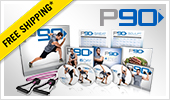 The P90 Base kit will come with all three phases of the program, the meal and fitness plan, and the two FREE bonus workouts that you don't normally get otherwise.
Be sure to check out the details on the next page to see all of the other goodies you get with the P90 Base Kit.
P90 Deluxe Kit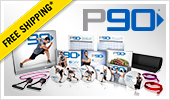 You get everything in the P90 Base Kit, designed to give you dramatic, visible results—plus three additional shorter workouts for when you're short on time, results-enhancing tools that take your workouts to the next level, and an additional FREE bonus gift. That's how the Deluxe Package makes it even easier for you to get results!
BEST VALUE – P90 Challenge Pack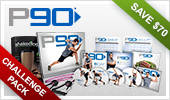 Want undeniable results? The P90 Challenge Pack is the best value to get both the nutrition and the workout program combined. You'll also save on shipping and receive a FREE bonus workout in the package (P90X3 Dynamix). Now you don't have to go to the extreme to get dramatic, visible results! Tony Horton's all-new 90-Day Body Transformation for EVERYONE features workouts that are simple, doable, and made to change your body right away—regardless of your age or fitness level.
Your Discounted Price: $180