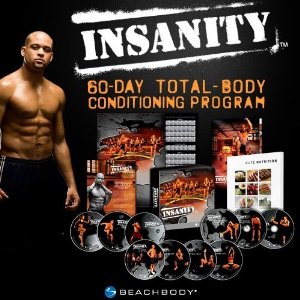 INSANITY is a 60-day wake up call that you have never experienced before. If you are ready to get extreme results. Extreme abs. Extreme weight loss. INSANITY Workout Program could be the answer for you.
Why is INSANITY Workout Program so Effective?
Most Cardio-based exercise routines focus on interval training. This means high intensity work followed by long periods of rest in between. INSANITY flips that concept on it's head with "Max Interval Training". This is LONG periods of intense effort with very short periods of rest in between.
The result?
A year's work of results in just 60-days! Abs, muscles, and the body of your dreams.
Check out this video for more information on the program along with success stories of those who have taken the INSANITY challenge:


Who is INSANITY for?
Men and Women in Top Physical Shape: For people who regularly run marathons or want to train to get to marathon running status. This is claimed to be the hardest workout program ever put on DVD. Do not take this statement lightly!
Extreme Athletes: INSANITY'S combination of intense cardio, strength training, and plyometrics will keep you in peak condition year-round, ready for rock climbing, snowboarding, or any rugged adventure.
Graduates of Other Beachbody Programs: If you have done a program like P90X or Focus T25 and have achieved great results. This would be a great follow-up program for you.
Former High School/College Athletes: You remember what it was like to be in top physical shape. Use INSANITY to bring back those athletic abilities.
Who is INSANITY NOT for?
Let's be honest and not beat around the bush. INSANITY is not for: Beginners, pregnant women, obese people, people who aren't willing to work hard, people who don't consistently do high-impact exercise.
What comes in the INSANITY Workout Program package?
You will receive the following in your personalized INSANITY program:
10 INSANE Workouts: Everything from Dig Deeper (the beginning instructions) to the Max Interval training programs. You will get 10 sweat-inducing programs to whip you into the shape you never thought possible.
Elite Nutrition Plan: The food plan that will help you ensure you are eating enough and eating right for this intense routine.
Fitness Guide: Everything you need to learn to maximize your workouts. It's sweet and to the point.
INSANITY Calendar: Check-off each workout on each day that you complete it. Track your workouts and plan easily.
FREE Online Support: Tools and resources online with your free account that you can use to make sure you have all of the answers you need to be successful.
PLUS! When you order through this website, you get the following added bonuses for FREE:
Fast and the Furious INSANITY Workout DVD: A $19.95 value, yours free from purchasing from a Team Beachbody Coach (Bob Sharpe, Sweet Life Fitness). This is an INSANITY workout packed into only 20 minutes. Get ready!
FREE COACHING: From Coach Bob Sharpe of this website, you can get free personalized coaching whenever you want online. Coach Bob Sharpe has been through INSANITY and knows the tips and tricks to be successful!
Get YOUR INSANITY Workout Program at the Best Price