P90X3 took notes from it's ancestors P90X and P90X2. It is the best of both worlds, only accelerated! Let's face it, the biggest reason people don't like to do P90X (even though it has proven success stories) is TIME.
We all live busy lives, and working out for 1 hour per day is not only unappealing, it's hard to fit in.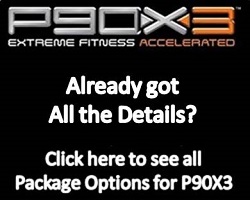 P90X3 crushes the time excuse. This workout is only 30 minutes per day from the comfort of your own home. Put it in the DVD player, press play, and get it done faster and more efficient.
X3 is a Total Breakthrough!!
P90X3 is NOT a "graduate" program of P90X or P90X2 (meaning that it is not necessarily "harder"). P90X3 is the concepts and intelligence of the P90X system, only accelerated.
Who is P90X3 for?
Are you a beginner wondering if you can do P90X3 without doing P90X or P90X2? The answer is YES! With condensed workouts (30 minutes per day), you will get a great workout in with less time. It won't be easier, it will just be less time!
You can choose between FOUR P90X3 workout schedules: Classic, Lean, Doubles, and Bulk. If you are just starting off, I recommend going with the Lean Schedule. If you want the hardcore P90X version, go with Classic. If you are someone who wants to build muscle, go with Bulk!
Check out this video for more information on the new P90X3 (can't see it? Click here):
More information on P90X3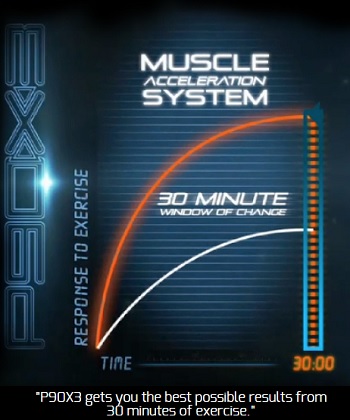 Muscle acceleration explained
Many P90X fans were hooked on the science of muscle confusion – which introduced variety to the workouts and prevented plateauing. X3 takes a hint from that success and from studies showing the most dramatic body transformations happen within the first 30 minutes of exercise. Enter muscle acceleration, a Tony Horton-approved highly-structured schedule with an incredibly high level of intensity and an unprecedented variety of moves. The gurus behind P90X3 combined exercises and added some twists to maximize your time and keep every muscle challenged for a full 30 minutes.
Say goodbye to boredom
Which brings us to the fun-factor. Host, world-renown fitness legend, Tony Horton does not disappoint. With his witty one-liners and can-do mantras, he'll simultaneously have you laughing and fired-up to bust out that final rep. Along with the constant entertainment, P90X3 has the most workouts of any Beachbody program. With 16 workouts in the base kit, they switch it up before you have a chance to consider boredom. From cardio to strength to Pilates to MMX, there is something for everyone.

Learn more about P90X3 Information: Click Here
What do you GET with P90X3?
Each P90X3 package comes with the following (this is considered the "base"). If you want serious results, get the Deluxe, Ultimate, or Challenge Pack options below.
P90X3 Workouts: 16 Different Workouts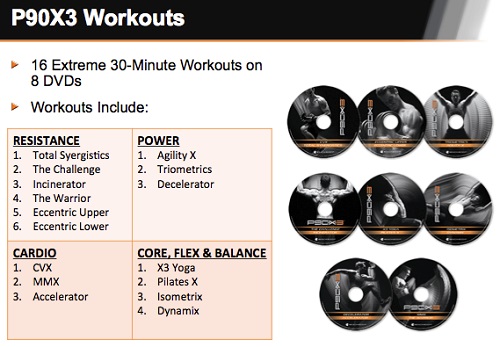 Fitness Guide
Nutrition Guide
90 Day Workout Calendar
How to Accelerate Intro DVD
24/7 Online Support
PLUS, when ordered here through Sweet Life Fitness, you get these FREE Bonuses included:
P90X One-on-One DVD Workout: On One Leg
Personalized Support from Coach Bob Sharpe with Sweet Life Fitness. Ask questions, chat, and fun, and join our private support group.
Buy P90X3 – The Packages and Challenges
Find the BEST program package for you. If you are serious about getting results, join our Challenge Group by getting a Challenge Pack (below). All challenge packs come with additional support and motivation by Coach Bob Sharpe. This also includes personalized nutrition support, fitness tips, and focused attention to get you results.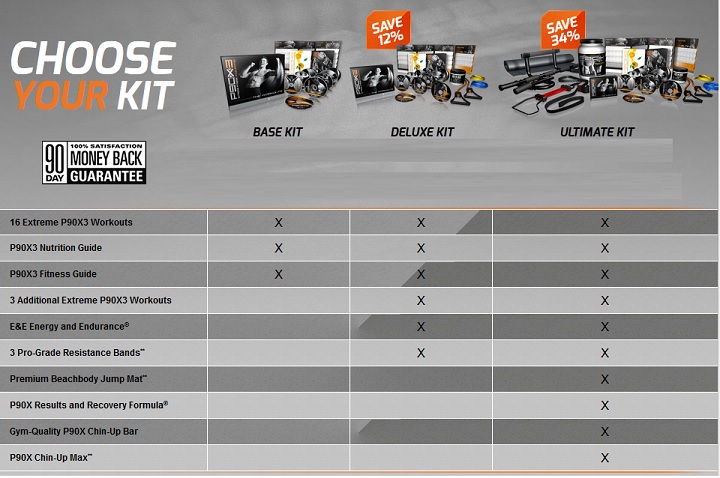 All programs come with a 30-Day Money Back Guarantee! After comparing which one best suits what you need, click on the package below to order through the secure ordering system.