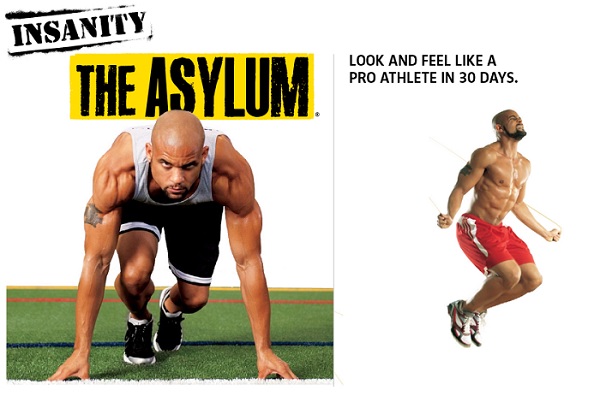 INSANITY the Asylum is the first at-home workout DVD program that uses the same drills and moves used by Pro-Athletes. Shaun T, creator of INSANITY and Focus T25 brings a workout program that will cut you from average to elite in just 30-days.*
BASE KIT OPTION (including the agility ladder and sports rope): Your Price: $104.80 $89.85 USD
DELUXE KIT OPTION (including all base kit plus chin up bar, resistance strength bands and chin up max): Your Price: $209.60 $179.70 USD
CHALLENGE PACK BEST VALUE (includes base kit plus Shakeology nutrition): Best Value Price: $209.60 $180.00 USD
The keyword is, 30-days. A 30-day program means that this program packs a punch, and isn't for anyone and everyone. If you are committed to getting the best body of your dreams, and become your own version of a pro-athlete, then this program is for you.
Check out this short video for a preview of INSANITY the Asylum:
What makes INSANITY the Asylum so Unique?
For starters, we are discussing INSANITY the Asylum Volume 1 primarily on this page. If you are interested in INSANITY the Asylum Volume 2 (the follow-up to the first Asylum) Click Here.
Elite athletes, including Olympic Athletes, use specific sports training drills and techniques. Their goal is to get fit and ready for Game Day. INSANITY the Asylum is no different. You will experience the same drills and techniques used by the pro, and even have your own "Game Day" DVD to accomplish.
There are two important pieces of equipment that you will use through INSANITY the Asylum. The best part is that they are INCLUDED when you purchase!
Agility Ladder: This is the yellow ladder that you may have seen in the video above. This ladder will be used often in many different forms to approve your speed and agility. This will not only help with your athleticism, but I have personally experienced improvements in my overall posture and daily walking.
Yellow Speed (Jump) Rope: You will use the jump rope mainly for warm ups and a few moves in the last phase of your 30-day workout. Make sure you have enough space in your house to use the jump rope without hitting the ceiling.
What is Included in INSANITY the Asylum Volume 1 Pack?
Six (6) Featured Workouts plus Two Bonus Workouts on Six DVDs: These workouts will help you look and feel like an elite athlete in just 30 days.
Agility Ladder: Sharpen your focus and form with this portable ladder and you'll get faster and more agile.
Asylum Workout Calendar: To track your progress and know what workouts to do on what days.
Get Shredded Nutrition Plan: Real athletes eat right! Follow this book to make sure you are mastering the best eating for the best results.
PLUS, when ordered through this website, Sweet Life Fitness, you will get the following bonuses included for FREE:
Bonus Athletic Performance Assessment: Discover the improvements you've made in your fitness and skills with this performance measurement tool. (25 minutes).
Bonus Overtime Workout DVD: Add this 15-minute monster to any Asylum workout to see if you've still got game.
Bonus Pure Contact Workout DVD: A $19.95 value yours free! A taste of INSANITY the Asylum Volume 2.
FREE COACHING: Free Personalized Coaching from Coach Bob Sharpe of Sweet Life Fitness. Bob Sharpe has been through INSANITY: The Asylum and can help you master your skills and answer all of your questions anytime.
GET YOUR BEST INSANITY the ASYLUM Pack today at the best price:
BASE KIT OPTION (including the agility ladder and sports rope): Your Price: $104.80 $89.85 USD
DELUXE KIT OPTION (including all base kit plus chin up bar, resistance strength bands and chin up max): Your Price: $209.60 $179.70 USD
CHALLENGE PACK BEST VALUE (includes base kit plus Shakeology nutrition): Best Value Price: $209.60 $180.00 USD