Starting on your 22 Minute Hard Corps journey soon? Be sure you are set up for SUCCESS before deployment on this 60 day journey with the FOUR things you'll need with 22 Minute Hard Corps Equipment.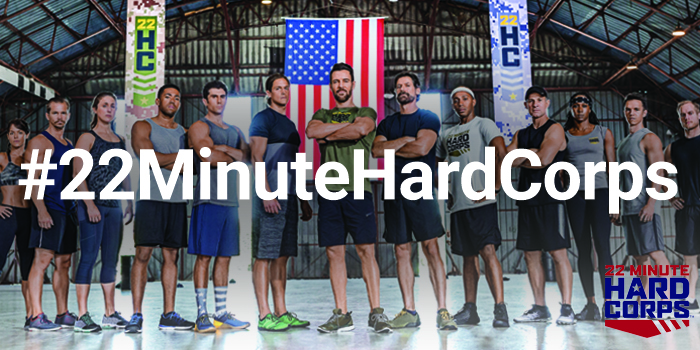 If you haven't yet purchased your 22 Minute Hard Corps kit yet; I'd strongly suggest getting the DELUXE kit upon checkout if you don't have all the necessary 22 Minute Hard corps equipment. This will provide you with the sandbag in the kit at a discounted price (vs buying it separately). You can see more of the 22 Minute Hard corps kits here.
22 Minute Hard Corps Equipment – What is Needed and What is NOT
In today's video I'll walk you through the different types of 22 Minute Hard Corps equipment needs (and what you don't need).
=>Get your 22 Minute Hard Corps program – Click Here<=
22 Minute Hard Corps Equipment – The TWO Things You Ought to Have
The below list is all you'll need to have success with your 22 Minute Hard Corps experience.
#1 – PT Sandbag & Dumbbells
You'll need a sandbag for these moves. Alternatively you can use dumbbells, but this is HARD CORPS – the benefit of the sandbag is that it shifts in weight as you move it, using your stabilization muscles and your core on certain moves.
Beyond the PT Sandbag, it's good to have a good set of dumbbells. I recommend something rather light to start based on your current level of fitness.
==>Click here to get the PT Sandbag
#2 – Chin-Up Bar or Resistance Bands
In order to do pull-ups, you'll want to either get the Chin-Up bar OR Resistance Bands (if you can't fit a chin-up bar into the door frame).
If you opt for the Resistance Bands, be sure to get a resistance that actually gives you a good workout!! Don't opt for a basic band that is garbage – get something with a higher rated resistance, so that you can get a proper workout.
For the Chin-Up Bar:
If you need help modifying pull-ups, get the Chin-UP Max, which attaches to the bar and helps you rock out the pull-ups:
Last but not least, if you don't want either, get the proper resistance bands for those pull-up moves:
22 Minute Hard Corps Equipment – Optional Items
There are also two optional equipment pieces I recommend depending on your current work out situation:
#3 – Jump Mat
As I explain in the YouTube video above, if you are working out on a hard surface, concrete floor, or tiled floor, a mat would do you well. Just be sure it isn't too fluffy if you have to transition on-and-off of the mat during your Hard Corps experiences:
#4 – Beachbody Mini Mat
When I first got this little blue mat, I wasn't really sure why I got it….but now, I swear by it! It helps SO much with the core moves that it's a must have, and why it's made my cut in this equipment recommendation post:
I hope you found value in this 22 Minute Hard Corps equipment post today! Join me and the Sweet Life crew and let's do these programs together! Either Get your 22 Min Hard Corps program OR Join Sweet Life for Free and let's get started!
Yours,
Coach Bob