As I promised you from my Cardio 2 review yesterday, I would post up my experience with Resistance 1 as I close in on the finish of Week #1 of 22 Minute Hard Corps program. Today I'm giving my 22 Minute Hard Corps Resistance 1 Review and detail.
You're about to run under the lights in a 5-move total body resistance burner today. That's right, this workout was filmed at night and gets you in the mood for what's to come in the Resistance 2 and 3 series.
Before we get started, be sure to also check out my full 22 Minute Hard Corps Blog to follow my entire journey!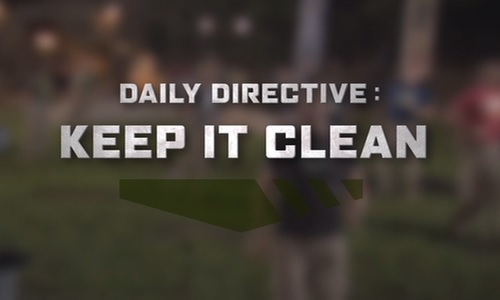 Today's directive is all about Keeping in Clean in Resistance 1. So many times people try to workout and throw weights around like some circus clown on crack. That kind of shenanigans will NOT get you the GAINS you are after. Focus on your form and doing the moves correctly so that you can properly carve muscle tone properly.
22 Minute Hard Corps Resistance 1 Equipment Needed: Sandbag (or dumbbells), Jump Mat, Chin-Up Bar or resistance bands.
Ready? Let's get started!
22 Minute Hard Corps Resistance 1 Review – YouTube Video Review
As you'll see in today's video, I decided to do Resistance 1 WAY TOO LATE at night. My ideal time is between 8 and 9 pm. But 10:30 PM is too late and I got too tired. Check out the video to see if I made it through and what happened:
=>CLICK HERE TO JOIN ME AND GET YOUR 22 MINUTE HARD CORPS<=
22 Minute Hard Corps Resistance 1 Review – The Moves
As I mentioned above, 22 Minute Hard Corps Resistance 1 deploys five different moves that you repeat over three sets. Let's take a look:
THE WARM UP
You'll do a set of Running in Place, Jumping Jacks, T-H squats, and egoscue stretch.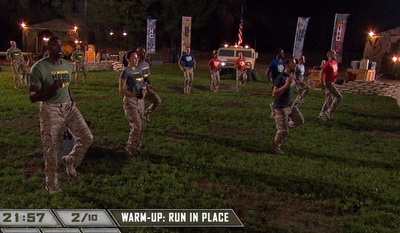 MOVE #1 – Push-Ups
Pretty simple, but very effective. I'm not sure if you realized, but Tony Horton, in his many various programs, focuses a lot on Push-Ups and Pull-Ups. They are beasts and many people hate these moves….but you have to think…if there isn't some magic within these two moves, Tony wouldn't keep putting them in his programs.
I have also used his Power Stands that you can get with your free TBB account as an additional challenge.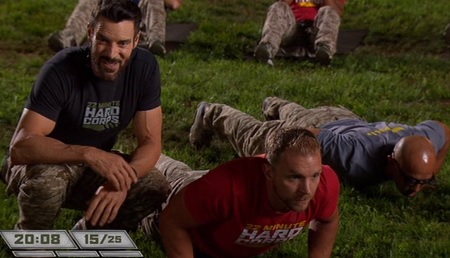 MOVE #2 – Squat Thrusts
I personally love using the sandbag for this move. You can use dumbbells as an alternative, but training with sand brings a whole new thing to it: shifting weight!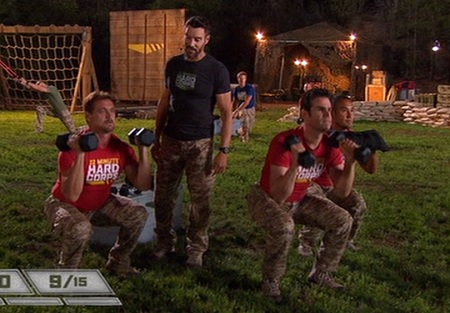 MOVE #3 – Pull Ups
Another simple yet effective move. I have alternated between using the chin-up bar and also using a very strong resistance bands, so that I could focus on my lat and shoulder muscle strength. You'll knock out 15 of these beauties in round 1, and then finish off with only 8 in round 3.
MOVE #4 – Chopper Lunge
I love this move. Considering my balance can sometimes be crappy, using a sandbag as you lunge left and right allows your core to be further engaged, which helps multiple muscle groups at the same time!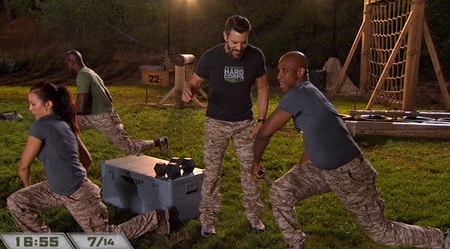 MOVE #5 – Sit Up Punch
This is where your mat will come in handy. You do a sit-up and at the top of the sit-up you hold and punch twice with alternating arms. See the guy front and center in the below photo? That's Mark Briggs – an awesome coach that is within my team! What team? Our awesome Beachbody Coach team! Click here to learn more about joining the team and taking your fitness (and income) to the next level!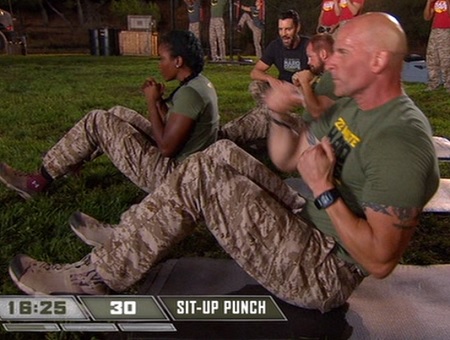 Those are the FIVE moves within 22 Minute Hard Corps Resistance 1 that you will encounter. You'll do these for a total of 3 times, before Tony springs THIS onto you:
BONUS MOVE: Quick Feet | Burpee | Push-Up
Right before the cool down you'll do a variation of quick feet, burpees, and push-ups on Tony's command for a total of 9 reps (that seem to last for a good hour or two…lol).
Then…You're Done…Did you #GETSOME????
If not, GET SOME TODAY with your copy of 22 Min Hard Corps!
Did you enjoy my 22 Minute Hard Corps Resistance 1 Review? If so, click LIKE and share this with others! Also comment below and let me know how your journey is going!
Yours,
Coach Bob