I'm super excited to share this amazing success story of one of Team Sweet Life's very own: Jimmy B.!
Jimmy looked like the guy on that left side photo LESS than a year ago. In less than a year, he scorched his body fat and revealed abs that he used to only dream about! Speaking of dreaming, he also was able to kiss his CPAP goodbye for sleep apnea and still leaves it on his nightstand to remind him each day why he now leads a healthy life!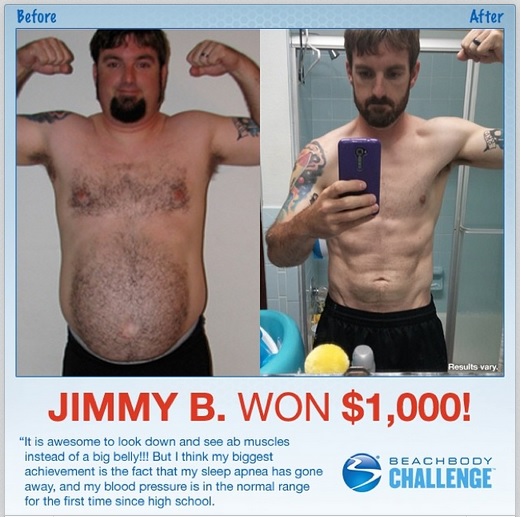 Who am I to speak? Let's hear from the man himself:
What Jimmy B. won:
$1,000
Tell us about your life before you started the program. How did you feel about yourself and your body?
*
Before I started
T25
and
P90X3
, I was at the biggest I had ever been. I was weighing in at 243 LBS. I would get winded at just the smallest of activities. I heard about a local man who had a heart attack and died at around my age. I decided I didn't want that to be me. I have 2 small children and there is a lot I want to do with them. It was hard for me to go outside and play with the. I would get so tired just doing the smallest activities. I decided it was time to start taking care of my body. I also suffered from severe sleep apnea. I knew that losing weight would help with that problem…which it has! I am now far less likely to have a heart attack myself! I am prolonging my life!!! I feel amazing!!
What inspired you to change your life and begin your transformation journey?
*
Definitely my family. I want to experience a lot of things with them. I don't want to be that dad that can't get out and play with my kids. I want to coach their sports teams, or dance with my daughter, and not worry about getting winded and having to stop. I see too many dads who would rather sit on the couch and watch TV and just let their health get way out of hand. I was that guy just 8 months ago. I realized how important everyone was to me, and how me not being around would affect them. I realized it was time for a change.
What is the greatest challenge you faced before beginning the program? How did the program and Beachbody® help you overcome that challenge?
*
I would say making the commitment to continue a diet and exercise program. Especially in the nutrition area of things. I never really ate right. I would have 5-6 sodas a day while at work. I would go through the drive-thru every day on my way home from work. We went out to eat more than eating at home. I had to really make a life change to get the results I wanted. I completely changed my diet. I cut soda 100% from my diet. I cut fast food 100% from my diet. I stopped going out to eat. It was a really hard thing to do, but I knew it was the only way to get results. You have got to make that commitment.
What in particular did you like about the program you chose?
*
I love the fact that it is only 25-30 minutes a day. I don't have a ton of time between work and family. I don't have the opportunity to go to a gym. I can do T25 or P90X3 right in my living room and get the same results I could in a gym…in just 25-30 minutes a day!! Also I have always felt intimidated by going to the gym. I love the fact that I can stay right in the comfort of my own home and get results. If I look funny doing a certain exercise, I don't have to feel self concious. I am in my own home. My wife may laugh, but I'm ok with that!!!
Describe the results you achieved with your Beachbody program. Which achievements are you proud of?* My goal was to lose 30 pounds during the first 10 week cycle of T25. I lost 35 pounds!!! I wanted to be at 200 lbs after finishing Gamma round of T25. I was at 188. When starting P90X3, I wanted to get down to 175 lbs, and begin to really carve out my muscles. The day I finished, I was at exactly 175…and my muscle tone is better than it has ever been. It is awesome to look down and see ab muscles instead of a big belly!!! But I think my biggest achievement is the fact that my sleep apnea has gone away, and I have dropped my blood pressure down to the normal range for the first time since I was in high school. I feel like my heart is so much stronger. I just feel so healthy now. I also started running races. I finished a 5k in under 25 minutes…and I finished my first Spartan Race…Getting medals for fitness is pretty cool!
How has your life changed since completing your Beachbody program?
*
I feel so much better physically. I can do more physical activities and I don't get tired as easy. I also have way higher self esteem about my body. I was always embarrassed to take my shirt off in public. Not anymore! Public swimming pool here I come!!! People look at me now and they can't believe my transformation. People who haven't seen me since before my workouts started don't even recognize me. And I am now helping people through Beachbody as a coach myself. It is an amazing time!!!
How did participating in a Challenge Group help you reach your goals? How did your group support you and keep you accountable? My challenge groups have been amazing. Just being able to talk to people who are doing the program at the same time as me is a huge help. If I feel like I am not doing an exercise correctly, i could ask how everyone else is doing it. Or trading nutrition tips with people. That was huge. It made the whole process just that much easier.
Did you achieve any other measureable improvements with a Beachbody Supplement or Nutritional Product or Program? (e.g. Blood Pressure, Blood Sugar, triglycerides, etc…) My blood pressure ran on the high side my entire life. I was at the point that my doctor was ready to put me on Blood Pressure Medication. After losing the weight, I have lowered my blood pressure down to the normal range. It is lower than it has ever been.
What is Jimmy Doing Now? – Beachbody Challenge Winner
Jimmy is now a proud Coach with Team Sweet Life Fitness. By paying it forward not only as  Beachbody Challenge Winner, but as a Coach, he can inspire others to go through the same journey.
You are NOT alone!
Connect with Coach Jimmy with your Free Team Beachbody account (Click Here) and he can help you get the results YOU deserve.
CONGRATULATIONS Jimmy!
-Everyone on Team Sweet Life Fitness