Want to know why your Beachbody Results fail? I want to help you get INSANE Beachbody Results as your coach, so let's get right to it today: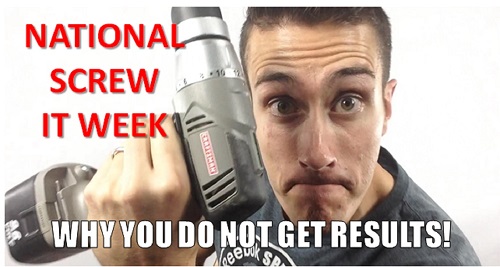 Why your Beachbody Results Fail – NATIONAL SCREW IT WEEK
According to the Details blog, over 45% of people make New Year Resolutions each year, and 21% of American Resolutions involve losing weight.
And….how many people stick with their New Year Resolutions?
73%…
Wow…
Time to stop the crap! It's time to get the BEST Beachbody Results you ever received!!!!
Your Beachbody Results Energized – Coach Bob's YouTube Rant
Check out today's video on National Screw It Week!
Now it's time for you to take ACTION on your Beachbody Results.
Either Get a Beachbody Program that includes the workout, the nutritional shake, and unlimited support from Coach Bob directly.
How you get started?
Click the banner below to select your favorite fitness program
Checkout and ensure it says Bob Sharpe is your Coach (or if it doesn't select me using ID #123621)
After your purchase, I'll reach out to you personally via e-mail to give you the link to the private support group I run.

Click here to get started!
Motivation is what Gets you Started…Discipline is what takes you to the Goal
Remember that you can't get results by just staying motivation. Motivation can be tough if you have a hard day and the excuses start flowing into your mind. You know what I mean: "I'm tired", "i'll just skip it today", "Eh it's not really working", blah blah blah.
The discipline will be what pushes you to do it anyway. The people who create Motivation and then turn it into Discipline are the ones that succeed the most.
The above results were achieved not by just the program INSANITY Max 30. I could have honestly used other programs. But because I failed not ONCE, not TWICE, but THREE times in getting the results I wanted, I was DONE with it all! It was time to get disciplined.
January 2015-March 2015 I decided to go FULL BOARD and stay disciplined.
Disciplined to my workouts every single day no matter what.
Disciplined to pushing myself outside of my comfort zone…no matter what.
Disciplined to my nutrition each and every day no matter what!!!
And I will follow the same exact plan now on my Master's Hammer & Chisel journey.
And I want YOU (yes, I am talking to YOU right now) to do the same thing. Stay disciplined. The results you want are the results you DESERVE – don't let yourself down!!!
NATIONAL SCREW IT WEEK? Are you IN? Or OUT?
Coach Bob
P.S. – Want to ensure you join a group of like-minded people focused on getting fit, sharing their story, and getting paid? Join me today and Work with Me!