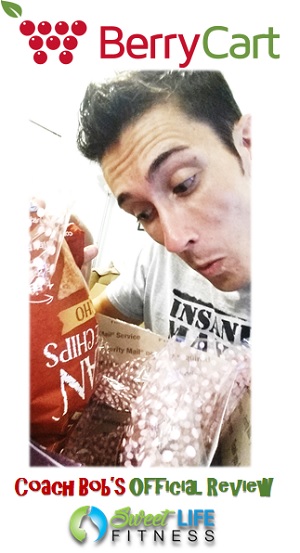 Have you ever heard of BerryCart? They are the company that gives you CASH BACK on their app for shopping healthy and scanning your receipts for qualified products. Well now they have a subscription box to highlight your healthier snacking and food options (either on their website or on the awesome app they provide). On this page I'll give my Sweet Life Fitness official BerryCart Review along with what you want to know: IS IT WORTH the $$$$?
So what exactly is the BerryCart Subscription Box? – BerryCart Review
The FIRST thing to know and remember is the Cash Back feature that BerryCart was founded on. Discover healthy deals and interact with their BerryCart app. With that you earn CASH BACK for your everyday purchases.
In fact, my wife has been using this app for the last week during her normal grocery runs and already racked up $5.15 in cashback rewards. The app and account is all free and allows you to start saving on healthy food. BerryCart and then download the App to get started.
And now there is a Subscription Box!
Huh?? What does that mean?
Well, BerryCart is a HUGE promoter of the best organic, gluten-free, or non-GMO foods near you (per their website). This means that beyond what you use on their app, you can now find healthy and legitimate snacks and goodies delivered right to  your door each month. These subscription boxes are:
8-10 products (and yes, FULL sized products…not those nasty sample packs that seem like a complete waste of money).
NO high fructose corn syrup, artificial flavors, sweetners, or preservatives. They are either healthy, organic, non-GMO, or all of the above.
Cashback Rebates. This is a great deal – you can use their own subscription box with the BerryCart app to get CASHBACK rebates on the monthly subscription box. This saves you some great money.
What is in the BerryCart Subscription Box?
My first month supply arrived at my door in a USPS box. Hmm, what could this be? I was excited to see my BerryCart subscription box right inside! Here is a snapshot of the goodies and snacks that I got:
I received quite a few FULL sized packages in this box and was quite impressed. Here are a few highlights of my BerryCart Review:
Chocolate Snakaroons – Be WARNED, these are pretty good. In fact, BerryCart notes to "eat one, then hide the bag". I can see why. This product is also Non-GMO and Vegan.
Keenwah Quinoa Clusters – I am not sure if you know about the benefits of Quinoa, but there are a LOT of benefits. But sometimes it's either inconvenient to cook them or people aren't fond of the taste. The Keenwah Quinoa Clusters definitely solve that problem. Unfortunately one taste of these did it for me, and I ate them all in one sitting (I do NOT recommend this LOL). They are that good, so be warned!
Beanfields Bean & Rice Chips – I want to spend a bit of time on this product. This product claims to be a protein chip as beans are the most water efficient source of protein. With this in mind this product packs 4g of protein per serving and 0g of sugar (if you know me, you'll know I HATE SUGAR!! – so this is great).
=>Learn more about BerryCart Subscription Box<=
Beyond what I mentioned above in my BerryCart review, I also got Simple Squares, Ranch Chickpeas (World Peas), IPS cheddar protein chips, and Hemp Hearts.
So who could the BerryCart Subscription Box benefit? – BerryCart Review
A few people who could really benefit from BerryCart are people like:
Moms or Dads on the run who need a good snack that aren't crappy chips and bad pantry foods (and let's face it, when you add up the money of all the garbage, it costs MORE than the BerryCart subscription).
People who like their snacks but want to eat healthier with a more organic, natural, and healthier alternative.
People on their fitness or weight loss journey that like their snacks but don't want to BLOW IT by cheating on bad snacks.
=>Learn more about BerryCart Subscription Box<=
I hope you found value in this BerryCart Review. Comment below and let's chat – do you use BerryCart? Do you like it? Comment below now!
Yours in Fitness Success,
Coach Bob