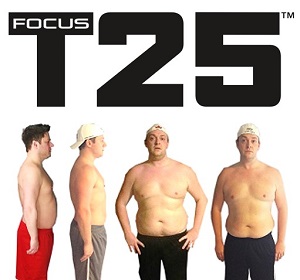 Dwayne and Roch literally rocked their Focus T25 results, especially in their story of how their health transformed. If you've been in any of the Team Sweet Life or Beachbody Challenge groups, chances are you've seen these two posting up inspirational videos and updates daily. These two inspire me and their fun and accountability is spot on!
But don't just let me say it, check out their awesome stories below!
Dwayne and Roch's Focus T25 Results Story
Dwayne's Story:
I unfortunately have been through many surgeries in my life for my stomach, esophagus, and diaphragm.  4 in total and will probably require another one.  The most recent which was 2 years ago, was on my diaphragm which my intestine was 8 inches high in my chest between my lung and my heart going through a hole in my diaphragm.  30% chance of not making it and I pushed through like I always do better then doctors can ever explain.  I am not one to sit long, I have to move around and keep active in some way shape or size.  After the surgery both my husband and I got into a rut as I was always getting sick due to my immune system being crap.  I gained a lot of weight, which of course pushed on my lung where I couldn't breathe properly.  I always have issue with breathing now and it makes it difficult to do certain things but the never stops me.  I decided to try, and well you see:
Roch's Story:
I was in a rut feeling bad for myself. My back was getting worst due to weight gain. That was my excuse a lot of the times not to workout. I started gaining a lot of weight after I got married to my husband. I felt aweful. I had done weightwatchers and then Isagenix and many other things but no success. I had no clothes that fit me anymore. Everything starting jiggling. yes we all know what I'm talking about. Didn't want to take off clothes by the pool. I can go on and on, but let me tell you instead what I did to change it.
And Change It he did, in just 25 Minutes per day!
Focus T25 Results – Yes YOU Can
In just 25 minutes per day you can be on your way to a closer and healthier you. Whether you go crazy or modify every move, these active steps will take you closer and closer to your goals.
Join Roch and Dwayne on your Focus T25 adventure, and you'll be included in our private and free online support groups. This is where you'll continue to see them on their next journey (INSANITY Max 30), while they cheer on everyone who is doing Focus T25 with the crew:
Great job Roch and Dwayne, we know you'll be on our Sweet Life Results page again very soon when you finish Max 30!
Team Sweet Life Fitness Coaches and Crew