HANDS DOWN the best value offer here with the Team Beachbody Programs. You'll save over $1700 instead of purchasing everything alone (see below for details). That means when you buy Shakeology® and a Team Beachbody® Club membership in this Challenge Pack, it's like getting unlimited streaming access to hundreds of proven Beachbody workouts for just $10!
The Club and Shakeology Challenge Pack is the first Challenge Pack that gives you 24/7 streaming access to hundreds of workouts, including the chance to tap into Beachbody's most popular programs, like P90X®, INSANITY®, and 10-Minute Trainer®, from anywhere you have an Internet connection. Take your Beachbody On Demand workouts with you anywhere you go and push play anytime you like, while fueling your body with Shakeology, so you can get the best possible results…even faster.
Your Challenge Pack Includes:
Your first 30-day supply of Shakeology—the superfood protein shake that helps give you energy, reduce cravings, and accelerates your fitness results—delivered on Home Direct, our monthly autoship program. *‡
Unlimited 90-day access to Beachbody On Demand—so you can choose a world-class fitness program and stream hundreds of workouts on-the-go, wherever you go! We are talking THE FULL PROGRAMS with NUTRITION and FITNESS GUIDES INCLUDED. P90X3, P90X2, P90X, TurboFire, and MORE.
A 90-day Premium membership to the Team Beachbody Club, where you'll find all the support you'll need to get amazing results.
Super Discount shipping (SAVE OVER $12) every month.
Your Price: $1815 $140 USD

It really is a NO Brainer – Beachbody on Demand Challenge Pack
If you are like me, you like to SAVE money. Instead of purchasing each program separately, either today or over the long term, get it now and get it CHEAP! See the difference in this image: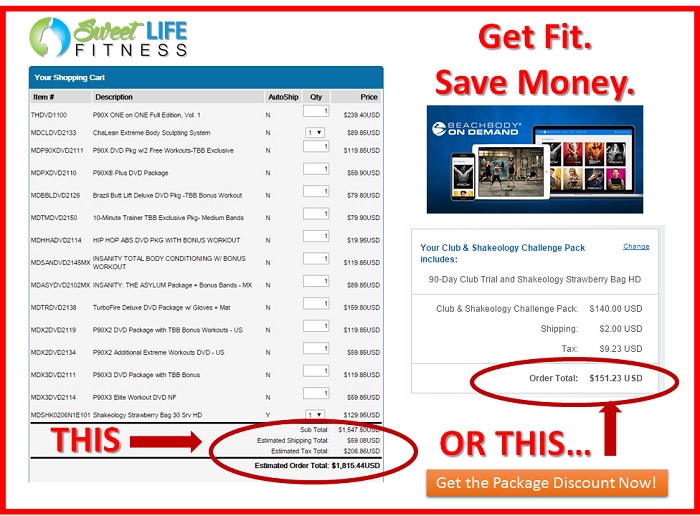 Click. Stream. Sweat.
Now you can instantly jump-start your fitness results with Beachbody On Demand, your one-stop shop for streaming your workouts on-the-go. Not sure which Beachbody program is right for you? With the Club and Shakeology Challenge Pack, you can try one of our most popular programs, like P90X®, INSANITY®, and 10-Minute Trainer, and choose the workouts that work for you. Just push play anywhere you have an Internet connection, fuel up with Shakeology, and start hitting your fitness goals faster—no matter where life takes you.
Your Challenge Pack Includes:
A 30-DAY SUPPLY OF SHAKEOLOGY—The Healthiest Meal of the Day®.*
You could spend more than $700 on supplements just to recreate all the healthy ingredients in one bag of Shakeology. But for only about $4 a serving, you can treat your body to the delicious daily superfood protein shake that helps give you energy for your workouts, reduces junk-food cravings, and may help you reach your fitness goals faster. A nutrient-dense combination of antioxidants, phytonutrients, adaptogens, and many other rare ingredients gives your body nutrients you can't get from a normal diet. 100% vegan option now available.‡
90-DAY VIP MEMBERSHIP to the Team Beachbody Club with Beachbody On Demand!**†
Get unlimited access to Beachbody on Demand, a one-stop shop for all your digital workouts with something for everyone:
Start streaming now! Instantly commit to your Challenge by choosing the program that's right for you from our massive collection of world-class programs, like the P90X franchise, INSANITY, 10-Minute Trainer, TurboFire, and Brazil Butt Lift.
Work out anytime, anywhere—whether you're traveling for work, on vacation, or would rather do your workout at a gym, now you can access Beachbody's proven programs from any desktop, laptop, tablet, or mobile device.
More than just streaming…Beachbody on Demand is the total package. Get step-by-step program guides, workout calendars, and nutrition plans—all online!
Never run out of options with new workouts added every month!
PLUS, Get All the Support You Need to Complete Your Challenge
No matter which workout program you choose, you'll reach your goals faster with the 24/7 tools and support available to you as a member of the Team Beachbody Club, including:
10% discount on all Beachbody purchases
Your own personal Coach to lean on and help you stay on track
VIP access to live monthly chats with Tony Horton, Shaun T, Autumn Calabrese, Chalene Johnson, and more of your favorite trainers
Expert advice from the pros, exclusive videos, nutrition tips, and delicious recipes
Meal plans personalized for your goals and designed to maximize results
Message Boards and chat rooms to help you find new friends and workout partners, and get advice and support from the entire community
30-Day Money-Back Guarantee
We're so sure you'll love this Challenge Pack, we're giving you our 30-day money-back guarantee. If you're not completely satisfied, simply call Customer Service to return it within 30 days for a refund of the purchase price (less any s&h).
Your Price: $1815 $140 USD



†Offer not valid for current paying Team Beachbody Club members.
‡These statements have not been evaluated by the Food and Drug Administration. This product is not intended to diagnose, treat, cure, or prevent any disease.
Consult your physician and follow all safety instructions before beginning any exercise program.
Results may vary. Exercise and proper diet are necessary to achieve and maintain weight loss and muscle definition.
Beachbody, LLC is the owner of the P90X, INSANITY, 10-Minute Trainer, Shakeology, the Healthiest Meal of the Day, Your Daily Dose of Dense Nutrition, Beachbody, and Team Beachbody trademarks, and all related designs, trademarks, copyrights, and other intellectual property. Sweet Life Fitness (d.b.a sweetlifefitness.net) is an approved affiliate of Team Beachbody, LLC.