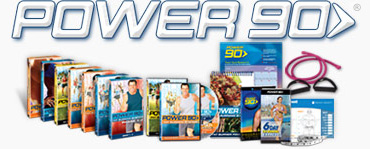 Power 90, otherwise known as P90, is a 90-day in home bootcamp. This is the exact program that inspired the intense P90X program in 2004. Power 90 is a great starter program because it focuses on fat burning and total-body sculpting focused on abs, thighs, and upper body. With trainer Tony Horton.
****NOTE: This is an OLD product page. Please click the button at the bottom for information on the NEW and Updated P90 program as it relates to Power 90****
Power 90 Infomercial Video
Get the details on why Power 90 is so effective in this video (can't see the video? Click here):
Who is Power 90 For?
Power 90 is a great program that fits many different fitness levels. This program is especially helpful for those people who:
Want to get in Good Shape without the Gym. Forget the Gym! No more sweaty equipment, this entire program is in the comfort of your own home using your DVD player. Order the program through Sweet Life Fitness and gain all of the necessary equipment to succeed.
Those not quite ready for P90X. P90X is Power 90 Extreme. Because of the intense nature of this program, it really isn't something people are interested in doing. Power 90 is more sensible with the solid nutrition plan, free support from Coach Bob of this site, and focused fat loss.
Those wishing to regain their fitness. Even if you don't fit into the category of trying to lose weight for the first time, this program also works on former athletes. If you are wishing to regain your fitness that you had in high school or college, this program will kick start your metabolism to reverse time.*
What do you Get with the Power 90 Program?
Total Body Transformation in 90 Days!
This in-home boot camp for dramatic body transformation uses Tony's Sectional Progression™ technique, which gives you an effective workout in as little as 30 minutes!

With Tony's Fat Burning Express plan, you can lose up to 10 lbs. and 10 inches in your first 6 days!
4 workouts
Sculpt Circuit 1-2
Easy moves to tone and firm your body. (29 minutes)
Sweat Cardio 1-2
Burn fat and shed inches. (36 minutes)
Sculpt Circuit 3-4
Next level for sculpting lean muscle tone. (38 minutes)
Sweat Cardio 3-4
Accelerated fat and calorie blasting. (42 minutes)
Revolutionary tools
Program Guide
No guesswork! Follow the program day by day.
90-day calendar
Track your progress and stay motivated.
Plus 5 FREE gifts!
New Fat Burning Express DVD
Jump-start your metabolism in just 35 minutes.
Fat Burner Meal Plan
Lose weight and still enjoy your favorite foods!
6-Day Fat Burning Express Plan
Lose weight fast!
Success measurement card and tape measure
Stay motivated and absolutely achieve your goals!
And a Power Sculpting Band FREE!*