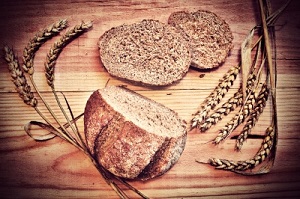 Carbohydrates are one of those nutrition words that bug people to death when it comes to weight loss and fitness. Low-Carb, High-Carb, Modified-Carb, Simple-Carb, Complex-Carb. What does it all mean, and how in the WORLD can we better understand Good Carbs vs Bad Carbs?
You came to the right place my friend.
Today I'm sharing the deal with Good Carbs vs Bad Carbs. My goal is to hopefully share a few tips so you can apply it when managing your carbs to get better fitness results. Your body reacts to carbs in different ways, and after this post I hope to help you understand the difference so you can go out like the champion of carbs!
Good Carbs vs Bad Carbs Starts with the GI
An easy way to rate Good Carbs vs Bad Carbs really comes down to the "GI", or Glycemic Index. The Glycemic Index (GI) usually has a number. The higher the number, the "badder" the carb! Obviously the lower the number, the better the carb.
GI (Glycemic Index) represents how carbs impact insulin and blood sugar levels. Think about it this way: a carb with a higher GI spikes blood sugar MUCH faster than a lower GI carb. When you do this, you paralyze your ability to burn fat (isn't that why we are here anyway??). While some bodybuilders use higher GI carbs for weight lifting, for the purpose of weight/fat loss, we will want to favor the lower GI carbs for longer-term healthy living.
YOUR GOAL: Eat Carbs with Lower GI ("Good Carbs") than carbs with a Higher GI ("Bad Carbs").
Let's check out the list of Good Carbs vs Bad Carbs.
Good Carbs vs Bad Carbs List of Favorite Foods
Usually foods with higher than 55 on the glycemic index are considered the bad carbs that spike insulin and promote fat storage. Use this list below for some general ideas on what constitutes a Higher GI (Bad Carb) versus Lower GI (Good Carb) food.
Apple – 39 (Low)

Peanuts – 7 (Low – Unsalted)

Cashews – 27 (Low – Salted)

Average Fettucini – 32 (Low)

Macaroni and Cheese – 64 (HIGH – Boxed/Canned)

Fruit Roll-Ups – 99 (VERY HIGH!)

Cheese Pizza, Regular Crust – 90 (VERY HIGH)

Baked White Potato – 91 (HIGH)

Sweet Potato – 70 (Better, but Still High)

Hummus – 6 (Low)

Orange – 40 (Low)

Brown Rice – 50 (Low)

White Rice – 89 (HIGH)

Strawberries – 32 (Low)

Carrots – 20 (Low)

Corn – 78 (HIGH)

Wheat Bread – 50 (Low)

White Bread – 71 (HIGH)

Soda Crackers – 74 (HIGH)

Skim Milk – 32 (Low)
(Source: http://ajcn.nutrition.org/content/76/1/5.full)
Why Carbs at all?
Carbs are important to help with energy and are one of the three major macronutrients. When we eat carbs that are lower on the GI scale, we promote healthy boosts of energy and food absorption that benefits our body. What does this mean? Not ALL carbs are bad! In fact, some may benefit you very well in your fitness journey.
I hope this list is helpful in starting off in understanding the importance of the Glycemic Index. The biggest takeaway is that I want you to know that all carbs aren't made the same. Stick to those with the lower GI and you'll be so much further ahead in your health and weight loss goals.
An alternative that I am a big advocate and daily consumer of is the Shakeology Nutrition shake. It has a GI of 24 (Low), and gives you a good protein to carb ratio as a meal replacement or snack replacement.
If you have any questions, comment below in regards to the Good Carbs vs Bad Carbs I discussed today. Also, be sure to Share this on Facebook with those you love – it is important in helping my mission of Making Fitness Fun here on Sweet Life Fitness!
Coach Bob
P.S. – Leaders Wanted – Click here to Learn More about joining Team Sweet Life.