If you are looking for great Exercise Mats for Home, look no further than the Gorilla Mat. When you're working out at home, especially on a concrete, wooden, or ceramic floor, you'll know the importance of having a good quality mat! If you don't…your body will soon tell you!
So, today I dedicate this post to help you with some tips for choosing the best exercise mat for home, along with my full Gorilla Mats Review, which is what I recommend.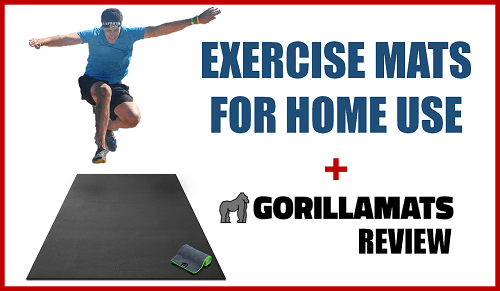 Gorilla Mats Review – How it Rocked my World
First – some history: I used to use the Beachbody Jump Mat for most of my workouts. It wasn't that it was necessarily bad…it just didn't really hold up too well. A few of the disadvantages of the jump mat were:
Slid around a lot during high intensity jumping/moving around.
Didn't have much width too it – it was more of a straight runner mat
Was very thin
So what makes Gorilla Mats so good?
Much bigger! I got the 6′ x 4′ version
You can use it with or without shoes
Non-Slip Grip Design – it has a dot pattern on the bottom that prevents it from sliding all around – and it has proven itself to me!
Eco-Friendly, Non-Toxic materials
Comes with a strap for storage as well as a microfiber sport towel
Want to check out Gorilla Mats? Learn more!
Gorilla Mats Review – YouTube Review
Check out my YouTube video on Gorilla Mats Review along with some great tips for choosing the right exercise mat for home use.

Interested in getting your own Gorilla Mat? Click the button below and get it direct from Amazon

Questions? Comment below and let's chat!
Yours in Fitness Success,
Coach Bob