Another great clean eating option for all of you awesome people to try here at Sweet Life Fitness! This one isn't so much the salad (as pictured below), but what is ON the salad. An amazing, very tasty homemade salad dressing that will knock your socks off (at least it knocked off mine for sure!).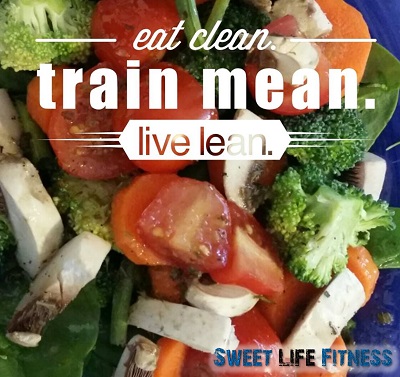 Homemade Salad Dressing – Tasty Italian Dressing Recipe
In the world of rushing to the grocery story to pick up your favorite Italian Dressing, you often forget what lies beneath! *Queue horror music*
Unfortunately preservatives are jammed into store-bought salad dressings that really just aren't fun. I'm not trying to go all "health nerd" on you or something, but let's be real in saying that salad dressing wouldn't classify as Clean eating in that case. SO – we have this option: The Homemade Salad Dressing for your Italian zesty needs.
Some of the major culprits in the world of store-bought salad dressings include:
Anyway, enough of those shenanigans, let's get on with the Italian Dressing you can make right at home.
Ingredients Needed:
2 Tablespoons – Water
2 Teaspoons – Honey
1 Cup – Vinegar
1 1/3 Cup – Vegetable Oil
2 Teaspoons – Garlic Powder
2 Teaspoons – Onion Powder
1/2 Teaspoon – Black Pepper
1/2 Teaspoon – Dried Basil
1 Tablespoon – Dried Oregano
2 Teaspoons – Dried Parsley
1 Teaspoon – Sea Salt
All you need to do is literally mix all of these things together! It really makes for an amazing dressing (Just be careful and use just a bit on your salad, otherwise it might be too spicy and add a few unnecessary calories).
This mix can last for a few months in your fridge (although I'm sure it won't lol).
Enjoy, and be sure to share this with others who might find the same benefits out of this great homemade salad dressing.
Yours in Health Success,
Coach Bob