Whether you are thinking about becoming a BEACHBODY COACH or you already are a Coach, this training will be helpful for you! Most of the time I'm asked how I invite people. Well…HOLD ON RIGHT THERE! I actually take a step before I invite (more on that later!). But, for the sake and purpose of today's training, I'm sharing 5 KILLER TIPS on how to INVITE as a Beachbody Coach!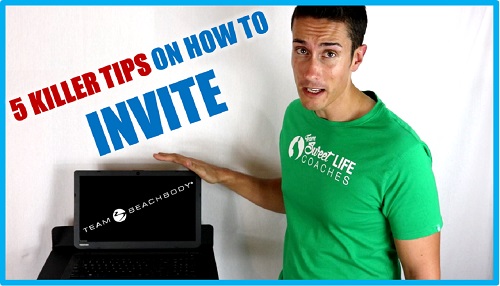 5 TIPS on How to INVITE as a Beachbody Coach
If we haven't met yet, WELCOME to my site. I passionately lead my team of Coaches that I like to call "Team Sweet Life". This means we are aiming to help each other, and everyone we meet live out their desired "Sweet Life", whatever that means to them.
INVITING can be scary. So let me break down what I do FIRST before I "invite".
==> EXPOSE.
Yes, expose the business. Don't go out there being annoying and trying to invite everyone at random. Instead, focus on your fitness journey. Share your struggles, your progress, and be relate-able. That will help people in getting to know you, like you and trust you.
Once you build up a relationship with someone, you can then step into inviting. If you haven't seen my FEAR OF REJECTION as a Beachbody Coach click so you can watch that video first.
Now it's time to learn how to invite as a Beachbody Coach:
STEP #1 – IF I….Would You?
The one mistake I see a lot people do is spewing a bunch of info to someone all at once. This not only makes no sense, it's overwhelming to the person.
Instead, invite them to check out what Beachbody is all about. If you are part of our team, you have access to a killer tool to help you do this.
"IF I would send you a link to a video….would you watch it?"
If they say NO, OK!
If they say YES: schedule in a follow-up time. Make sure to make it specific and confirm with them "OK Bob, I'll follow-up with you on Thursday at 3pm after you watch the video".
STEP #2 – Make it SIMPLE and EASY!
This goes along with my point above: Don't spew a bunch of mindless chatter! Make it simple and easy to point and click them to where they need to go (think about it this way: if they see you doing a bunch of complicated things, they will think THEY need to do a bunch of complicated things in order to be successful….instead, focus on simple and easy duplication).
STEP #3 – Ask: "What did you like Best?"
Don't just say "What do you think?" That is shallow and doesn't really help you understand where their mindset is at the moment. After they watch the video, ask them:
"WHAT DID YOU LIKE BEST?"
and then…
STEP #4 – SHUT UP AND LISTEN!
Don't go off on tangents about how you agree with them or how Beachbody changed your life. Calm down and listen to what they are saying!
If they say:
"Wow these fitness programs look great! I need to lose weight!"
Perhaps they are a candidate for your next challenge group.
If they say:
"This entire business thing was pretty cool"
Maybe they are a good candidate as a Coach or both a challenger & coach!
If they say:
"Eh, I didn't watch it"
or
"Well, I don't know"
Maybe they just aren't ready yet or aren't someone you'd want on your exclusive team. Remember…zero emotional attachment to the outcome!
STEP #5 – Let's Get you STARTED
If they aren't the last two statements, they are at least showing some sort of interest. Time to say:
"Sounds like you are ready to get started!"
Then, again, shut up and listen to what they say. If they are ready, get them the link and prepare to help them live their sweet life!
5 Tips on how to INVITE as a Beachbody Coach
Check out today's video for a recap of the above information along with some additional tips to help you succeed!
If this post and video helped you today, give it a LIKE and a SHARE below!
Also, if you are not yet a Beachbody Coach, click below to learn more!

Yours in Success,
Coach Bob