Here we are – continuing Week 4 of the LIIFT4 Workout Program and it is still shaping up to be my favorite workout program to date. Today I'll dig into the LIIFT4 Back and Biceps LIIFT 50/50 Review. Here we go!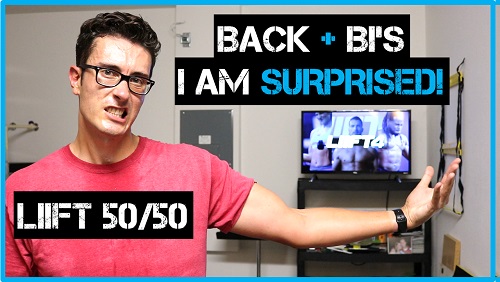 LIIFT4 BACK AND BICEPS LIIFT 50/50 REVIEW – THE MOVES
If you've come over this way from my YouTube video, below is where I will share my weights used for all 4 weeks (so far) of LIIFT4 Back and Biceps.
Similar to what I did with Chest and Triceps, my weights are below; however this is not about a competition! The real competition is with yourself. Always push to challenge yourself to get better from yesterday, last month, and last year!

This particular workout will feature 3 blocks of 2 weightlifting moves each, followed by 1 block of 3 HIIT moves, and lastly one core/abs block.
BLOCK 1 – Weightlifting
BLOCK 2 – Weightlifting
BLOCK 3 – Weightlifting
Traditional Row
Hammer Curl
HIIT BLOCK
Squared Squats – 60 seconds total
Wide Mountain Twists – 45 seconds total
Plyo Lunges – 30 seconds total
CORE/ABS BLOCK
Side Reaches
Dumbbell Plank Tops
==>GET LIIFT4 NOW!<==
LIIFT4 BACK AND BICEPS LIIFT 50/50 – VIDEO REVIEW
Keep rocking LIIFT4!
Yours in Success,
Coach Bob