Here we are friend, Day #3 of LIIFT4! It's zooming by and this program is continuing to impress the heck out of me!! Today I am giving my full LIIFT4 Shoulders LIIFT Intervals review!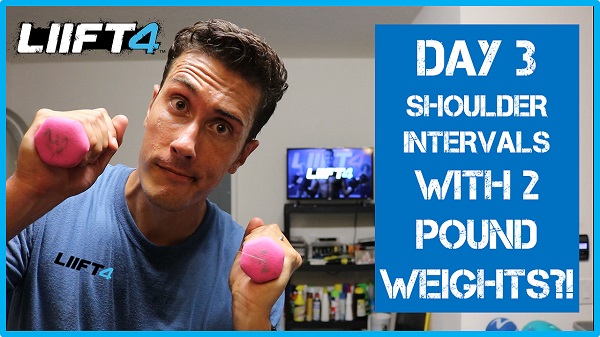 LIIFT4 Shoulders LIIFT Intervals – Day 3 Review
In typical fashion, let's talk about the workout and moves first. I think Joel Freeman does a phenomenal job training you throughout this program so far and I think it also helps tout the soreness most people are feeling only 3 days in!
Total Time: 33 minutes
Active Calories Burned: 364 calories
Average Heart Rate: 115 BPM
You'll do 3 blocks of workouts and finish off with core & abs at the end. As always, you repeat each block 3 times over.
BLOCK 1
Shoulder Press
Upright Row
HIIT (Cardio): Single Leg Plyo Jump
BLOCK 2
Front Raise
Lateral Raise
HIIT (Cardio): No Jump Burpee (for this one, I used my Tony Horton PowerStands)
BLOCK 3
Y Raise
Shoulder Fly (HOLY !!!!!!!!!!!!!)
HIIT (Cardio): Alt Plyo Lunge
Seriously this workout will have your shoulders on FIRE! Don't delay:
==>GET LIIFT4 NOW!<==
LIIFT4 Shoulders LIIFT Intervals – YouTube Video Review
It isn't a proper LIIFT4 review without a full YouTube video review. And speaking of which, if you haven't yet subscribed, do it now – Click here!
==>GET LIIFT4 NOW!<==
Now, it's onward and upward for the final day and the wrap-up of LIIFT4 week #1!!!
Yours in Success,
Coach Bob