Just when you thought the world was already crazy enough, along comes a New Weight Loss Device from Aspire Bariatrics that "pumps" the crap out of your stomach on demand!
Yeah, this is NOT a Hoax and it is legit…and worse yet, the FDA has approved it:
How the AspireAssist New Weight Loss Device Works
Now keep in mind all of this is my OWN opinion on this device. As you may have noticed, you are on a fitness and health site, so I tend to be bias towards quick fixes and shenanigans.
This New Weight Loss Device from Aspire Bariatrics is no different.
The aspire is hooked into your stomach using an outpatient surgery.
After eating, the AspireAssist works to remove a portion of food from the stomach before absorbed.
System is removed from the carry bag.
The system is connected to the button on your body that connect to the tube that feeds to your stomach.
You rotate the level and stomach contents empty into the toilet.
This process takes 5-10 minutes to empty a portion of your stomach.
The New Weight Loss Device Rant – Coach Bob's YouTube Video
Check out this video where I talk a bit more about this new weight loss device from Aspire.
My Concerns with the New Weight Loss Device – Approved by the FDA
The FIRST thing that drives me up a wall is this graphical chart, claiming success vs the gastric band surgery: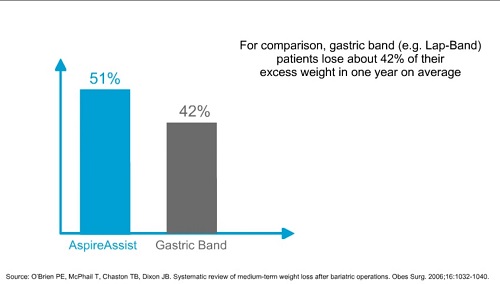 Essentially, this new weight loss device is aimed at helping you lose excess weight by removing the food. Why not just NOT eat the food in the first place?
I mean, at the end of the day the ONLY reason you'd be eating the food is to give the tongue a bit of pleasure in taste….that's really about it.
Dumb…
CONCERN #2
My second concern is the long-term impacts of this type of product. We have crap stuck in us internally for this process. What if it gets infected? What long-term impacts may this have?
The FDA approves something like this, but becomes highly skeptical of organic foods. WTF?
What do YOU think of the New Weight Loss Device?
Comment below and let's chat! What do you think about this new device?
If you are interested in starting fresh with a system for BOTH weight loss and nutrition all wrapped up into a MUCH lower price than this creepy device, check out the 21 Day Fix System that comes with FREE support from me and my team!
Yours,
Coach Bob