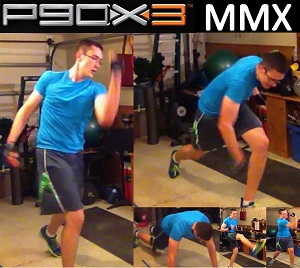 Today I tackled P90X3 MMX. Put simply, this is a form of Mixed Martial Arts to the X-treme (hence, MMX). But in comparison to P90X Kenpo X (the "original"), this one will WORK YOU! Check out all of the details in my P90X3 MMX Review today.
The workout starts off with some of the basics. Jab, Cross, Hook, and Uppercuts. Then, about a quarter of the way through, your friend SPRAWL comes around. This is similar to a burpee, only you do a TON more. You will also finish up the workout with the Gladiator Kicks and, oh yes, more freaking Sprawls! Check out my video review and a list of all the moves below.
P90X3 MMX Review Video
Here is my P90X3 MMX video. Check it out to see some of the moves that you'll encounter. This is just my second week, so there are a few moves that need work, but hey – it's a work in progress and a journey! Stick with it, even if you feel like an absolute goof!
The P90X3 MMX Moves
Here is a brief list of all of the moves you will encounter in the MMX workout. Notice all of these wonderful Sprawls (have you figured out by now how much I just "Love" these sprawls?)
High and Low Jab/Cross
Hook/Uppercut/Front Knee
Triple Jab/Cross/Back Knee
Hook Elbow/Down Elbow
Jab/Over the Top Elbow/Crescent Kick
Superman Punch/4-Punch Scramble/Sprawl
Lead Uppercut/Hook Elbow/Snap Kick
Sprawl/Power Knees/Hook and Upper Elbow
Upper Back Elbow/Hook Elbow/Back Kick
Jab/Cross/Sprawl/Hook/Uppercut/Sprawl
Push Kick/Snap Kick
Hook/Uppercut/Hook/Uppercut/Sprawl
Front Leg Check/Front Snap Kick/Superman Punch
Jab/Cross/Sprawl/Scramble
Jab/Cross/Hook Elbow/Over the Top Elbow
Gladiator/Sprawl/Jab/Cross/Hook/Uppercut
P90X3 MMX Review – Harder than Kenpo X After All?
In my own personal opinion, I do feel that P90X3 MMX is harder than Kenpo X. But that doesn't mean that P90X Kenpo is an easy walk in the park. If it continues to challenge you, it continues to change you!
If you feel that Kenpo is getting easy, P90X3 MMX will definitely be a great next step. No matter what, keep pressing play, stay consistent, and things will happen for you
If you have any questions about P90X3, feel free to comment below and let's chat!
Yours in Making Fitness Fun,
Coach Bob
P.S. – Get Coached for Free by Coach Bob – Click here to get your Free Account
P.P.S. – Leaders wanted. Take your fitness to the next level – check it out here