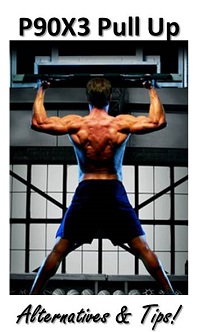 Pull ups are so important for fat burning, muscle building, and overall success with P90X3. The LAST thing you want to do is avoid pull ups or skip out of them (if you want results). Today I'm sharing a few P90X3 Pull Up Alternatives and Tips that you need to hear. My goal is to help YOU so you can get the results you desire with P90X3!
P90X3 Pull Up Alternatives – The Video Review
The best place to start is my recent YouTube video. Check out the P90X3 Pull Up Alternatives video:
If you want the P90X3 Chin Up Max that I talk about in this video, Click Here to learn more about it.
P90X3 Pull Up Tip #1 – Resistance Bands
I never scoff at the resistance bands, because I think they are a GREAT P90X3 pull up alternative. I say this because as a bigger guy myself when I started fitness, the resistance bands help build up your baseline of supporting muscles, that will eventually lead you to doing a better pull-up.
The two best ways to use resistance bands to improve your pull-ups are:
Door Clip – Get yourself a door clip (available in your Team Beachbody account) which will support the resistance bands. Go back into a rocket-launcher stance and pull back (move your arms in the same fashion that you would if you were pulling yourself up).
Increase Resistance – If it starts to get easy, and you aren't feeling a good workout, get more intense! Increase to a stronger resistance band.
See more details on my Resistance Bands YouTube Video.
P90X3 Pull Up Tip #2 – Chair Assist
A chair can be a great P90X3 Pull Up alternatives method. Just be careful not to get lazy with the chair by using your legs to do most of the pull-up. Use the legs only for support.
Level 1 – Use both legs to support your pull-ups.
Level 2 – Use just one leg to support your pull-ups.
Level 3 – Kick the chair!
P90X3 Pull Up Tip #3 – Chin Up Max Assist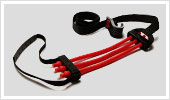 Since I started P90X, I always used the Chair Assist (and admittedly I cheated a LOT). But since I started P90X3, the game has changed for the better!
The Chin-Up Max assist has been my savior for a few reasons:
It clips directly to the pull up bar
It flexes with your pull-ups and kips. The chair allows you to cheat with your legs, but the chin-up assist gives you ability to use your arms more.
It can be adjusted based on the intensity you need (or the assistance you need).
I hope the P90X3 Pull Up alternatives were helpful to you today in your X3 journey! Comment below and let the community know if YOU have an alternative method to pull-ups or any suggestions.
Yours in Fitness Fun,
Coach Bob