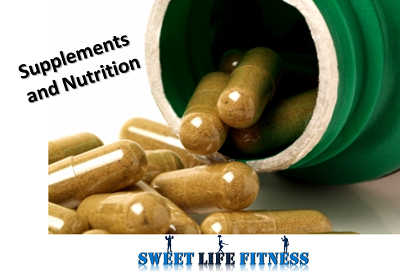 I have often heard from team members and clients that they want a "Quick Fix". Remember what Sweet Life Fitness is all about: NO HYPE!
Your Sweet Life NO HYPE Response on Supplements:
There is no such thing as a Quick Fix. No pill-popping magic will get you to your Sweet Life of Fitness and Health. Instead, you need to think of everything like a puzzle. You need to have all of the pieces of the puzzle put together in order to find the Sweet Life of your Fitness and Health. This means having:
The Right Supplements – this is what this page is dedicated to.
The Right Nutrition – simply put, you need to eat right and drink right!
The Right Exercise – at home or at the gym, you need some form of exercise daily.
The Right Sleep – 7-8 hours of sleep per night.
The Right Stress – The right type of stress that keeps you going, not the stress that wears you down.
Some people think supplements are that "magic pill" (no pun intended). This means that with supplements we don't have to do anything else, and can get that Triple Bacon Fried Hamburger. Wrong!
With this in mind, please check out our recent supplements from Sweet Life Fitness!
Supplements for Protein
Whey Protein Powder – 100% all-natural ingredients so that you can get the pure protein without the junk.
P90X Protein Bars – A great alternative for a fast and easy pick-me up with 20 grams of protein per bar.
Supplements for Pre-Workout/Energy
Supplements for Post-Workout
P90X Results and Recovery Formula – Formulated especially to give your body the right blend of nutrients post-workout to replenish your muscles and prepare you for success.
Supplements for Multi-Vitamin and Immune Support
P90X Peak Health Multi-Vitamin – Get ripped with our most complete, high-end, high-potency multivitamin, specially formulated to boost your strength and energy!
Cordastra – Help strengthen your immune system and increase your energy and stamina with this exclusive potent blend of ancient Chinese herbs—cordyceps and astragalus
*Results may vary from person to person as per their own capacity.