Ready? Set? Week #2 and 22 Minute Hard Corps Resistance 2 review is on deck: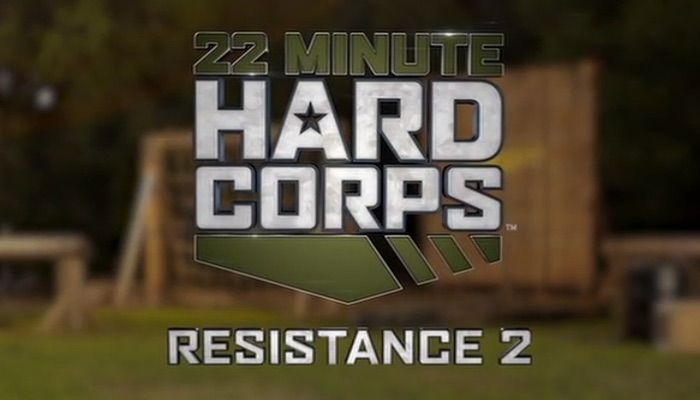 Similar to Resistance 1, 22 Minute Hard Corps Resistance 2 will introduce a set of 5 moves, repeated over 3 times.
As I was going through Resistance 2 today, I really started thinking about RESULTS. I mean, after all, the reason we do these workouts is to get AMAZING RESULTS right???
So don't screw it up!
When you are doing shorter workouts because you are busy with life, or just hate working out, ensure your FUEL is correct. That's why, the NUTRITION PLAN. Follow it, use those bloody containers, and stay consistent. I have seen people end this programs highly disappointed because they half-ass the effort, the nutrition, and the focus. Don't be one of them – be the strong willed, bull-headed person you NEED to be in order to get the RESULTS YOU WANT
#RantOver
22 Minute Hard Corps Resistance 2 Review – YouTube Video
Check out today's YouTube video on 22 Minute Hard Corps Resistance 2 Review
Are you a leader? Take it up a notch with me as your mentor and help others get fit: Join as a Coach Today – Learn More here.
22 Minute Hard Corps Resistance 2 Review – Is it Too Easy?
Play the cards you are dealt. Is it too easy? Heck no, and if you start thinking that I challenge you to push harder in the workouts. This means:
Go deeper in leg moves
Kick legs up higher in jumping and kick moves
Go heavier with the sandbag or dumbbells
Don't make the excuse that things are too hard or too easy, Adjust for RESULTS!
Let's talk about the MOVES you'll experience in Resistance 2:
BURPEE PRESS – As you'll see on the video above, you use the sandbag and press up, go down into a burpee, and repeat
WEIGHTED SQUAT JUMP – In this move you are holding the sandbag, squat down, and then jump up and repeat and repeat (this is a great resistance-cardio move!)
CHIN UP L-CRUNCH – I vaguely remember this from Tony Horton's other workouts, but you simply chin-up on the chin-up bar and then lift your legs straight out, making it look like you are an "L". The leg lift is certainly the tough point in this workout as it requires the use of your core!
PUNCH PULL – This is the move I refer to in the video above that I started with a 15 pound dumbbell, but will more than likely use 25 pounds next time.
CORKSCREW TWIST – The final move in this 5-part set. This workout will remind you of the P90X Ab Ripper X Pulse-Up moves, only this time you corkscrew your legs left and right as you lift them up to the sky. Great for the central core and obliques too!
You'll then repeat this for another 2 sets (3 sets total).
Afterwards, refuel with your Performance Line Recover drink and you'll be on your way.
How is YOUR 22 Minute Hard Corps journey going? Comment below and let's chat!
Yours in Success,
Coach Bob