Where Day #1 brought you B4 LIIFT4 Chest and Back, Day 2 greets you with B4 LIIFT4 LEGS 50 50!
Spoiler alert: This is probably my favorite LEGS workout I've ever done! That says a lot, because I generally hate doing the leg workouts. But the flow of B4 LIIFT4 LEGS 50 50 keeps my interest and gives a great workout! Let's review it today.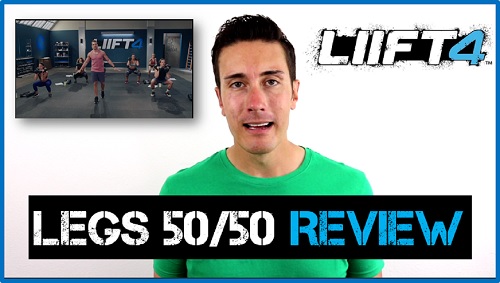 B4 LIIFT4 LEGS 50 50 REVIEW – The Moves
Let's talk about the moves that you'll encounter in B4 LIIFT4 LEGS 50 50.
First, the 50/50 mention is 50% weight lifting and 50% HIIT. A perfect mash-up in my opinion!!
BLOCK 1 – Weight Lifting
Front Loaded Squat – load up your weights and do 10 squats. You'll repeat this for a total of 3 times which will allow you to adjust your weights as needed.
Deadlift – a simple front facing deadlift as I display in my YouTube video below.
BLOCK 2 – Weight Lifting
Goblet Sumo – Yes, the GOBLET of FIRE (or at least, your quads are about to be on fire!!!). You do a typical sumo squat while holding 1 weight in a goblet fashion.
Calf Raises – Calf raises ranging from feet pointed straight, to out, to in.
BLOCK 3 – LEG HIIT
Soccer Run – you'll be running while pretending to balance a soccer ball in the air. For this HIIT you'll be doing this in 30 second sections, three times over, with a 15 second break in between.
Squared Squats – After the soccer run, you'll be doing the squared squats. If your quads aren't already burning, this workout will make it happen!!!
CORE BLOCK
In today's core block, it's a little weird, you're simply just doing side planks for 30 seconds on each side. Very simple.

B4 LIIFT4 LEGS 50 50 YouTube Video Review
Check out today's YouTube Video Review on B4 Liift4 LEGS 50 50!
Ready to do LIIFT4 with me???? Just click below to get started today:

Yours,
Coach Bob