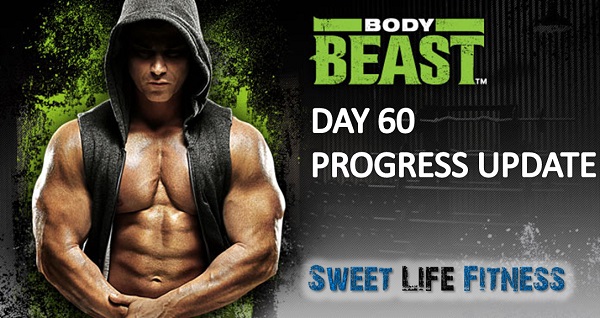 I am back and more than excited to share my Body Beast 60 Day Results and progress update with all of you! It feels like forever since I last gave me update on my Back and Bis review. And now I've blow past the Bulk Schedule and I'm getting ready for the final stretch of the Beast program!
Today I will share my progress update with Body Beast and also share the REASONS behind my decision and battle of this big question: Am I Getting BIG or Just getting FAT??
Body Beast 60 Day Results Picture Update and Goals – Time to be Clear about the Goal!
As I originally mentioned on my Day 1 Review, my goal isn't to get INSANE huge. But let me be clear – I have always struggled with either being "Skinny Fat" or being Lanky as heck. After I finished my P90X3 Journey, I knew it was time to add on some muscle the "Beastly" way. There have been numerous studies done that prove that muscle helps to burn fat.
With that in mind – THAT is my primary goal. I knew (based on reading other reviews and research) that with gaining muscle I would need to:
Eat at a Calorie surplus during the "BULK" Phase of Body Beast (3122 calories per day at 25% protein / 50% carbs / 25% fats)
Be OK with adding body fat (my body fat ballooned up a bit during the Bulk phase)
Be ready to CUT like a maniac during the "Beast" phase, per the schedule, to reveal STRONGER Abs, Bigger Arms, and a better defined physique.
Get Real and be Prepared to do a 2nd, and even 3rd round for BEST results possible!
With my goals spelled out, I'm happy to share with you my Body Beast 60 Day Results picture: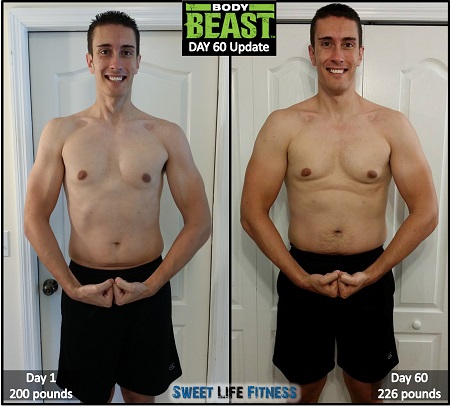 Keep in mind that I'm 6 foot 7 inches (tall freakish dude! lol). My ultimate BMI weight would be around 196 to be "slim and skinny". So to put on 26 pounds during 60 days isn't too bad at all!
As you can see, the biggest gains that I have seen is the arms. My shoulders and triceps with a little growth in biceps were the best and most visible improvements. I also noticed my chicken legs, calves, and quads have gained great strength as well. While I did loose the definition in my abs from the end of P90X3 to Day 1 of Body Beast, I can tell my core and abs are MUCH stronger than they used to be pre-Beast. Once I shed the body fat, I can't wait to see the bigger, and more defined ab muscles.
Body Beast 60 Day Results – Getting Big or Getting Fat?
My body fat has gone up from 11% body fat (after P90X3) to around 18% body fat on Day 60 of Body Beast. I get a lot of people who are doing Beast with us on Team Sweet Life asking about body fat. Here is the deal: if you want to grow Muscle, you have to eat at a calorie surplus. This involves also adding body fat to a marginal to great degree (depending on how much you are "Bulking"). So, if you want to make LEAN Gains, focus on the Body Beast Lean Schedule. While you won't get swole muscles as fast, you will put on some muscle mass while staying leaner.
See my video for the details on my Body Beast 60 Day Results (and be sure to subscribe to me on YT as well!)
Overall Stats of the Body Beast 60 Day Results
ARM (At Bicep): 14 inches – 15.5 inches
Body Fat: 11% to 18%
Weight: 200 to 226
Chest: 37.5 to 39 inches
I also saw good improvement in my strength during the workouts. As I mentioned during Build Shoulders, my shoulders were the weakest, and I was holding onto 5 and 8 pound dumbbells! Thanks to the bulk phase and aiming to grow, I was able to increase my Shoulder weight to 15-25 pounds on some of the moves.
Last but not least, feel free to join me on MyFitnessPal (Screen Name is "CoolRunLT") to see what I eat each day. During the Bulk Phase I ate 3134 calories at 25% protein / 50% carbs / 25% fats.
During the BEAST Phase (the "cutting" phase), I will be eating 2533 calories with 40% protein / 30% carbs / 30% fats.
I hope you enjoyed my Body Beast 60 Day Results update. If you have any questions, comment below. Most importantly, if you are thinking of JOINING me and doing Body Beast, CLICK HERE and let's install #BEASTMODE together!
Yours in Fitness Success,
Coach Bob