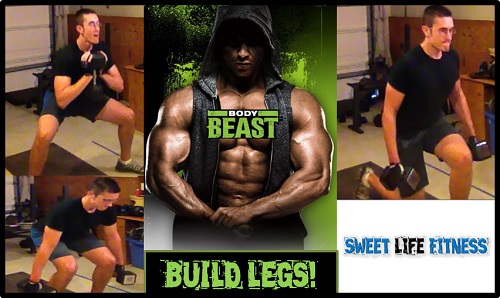 I never really understood the shenanigans around Leg Day for those avid "gym goers" who are consistent at their local gym. But today, I finally understand and think I might need a walker after Body Beast Build Legs Review on Day 2 of the Beast!
I'll be honest and say that I think the two areas where I struggle the most are my Legs and the Shoulders. If you follow me during my P90X3 Journey, you'll remember me talking about balance. So while it's easy to skip out on the leg day (because….who cares about legs, right? It's all about those arms, shoulders, and chest!), I think Body Beast Build Legs will give me the strength to further improve my balancing shenanigans.
After Build Chest and Tris on day 1, I was already feeling like a sore dude. Thank goodness this wasn't another upper body workout!
Total Time for Build Legs: 38:18 (I was happy to see this wasn't a 60+ minute workout!)
Equipment: Bench/Stability Ball, Dumbbells, Curl Bar (optional), Chair.
Body Beast Build Legs Review Day 2 – Video
Check out the video of my Body Beast Build Legs review:

Body Beast Build Legs Review Day 2: The Moves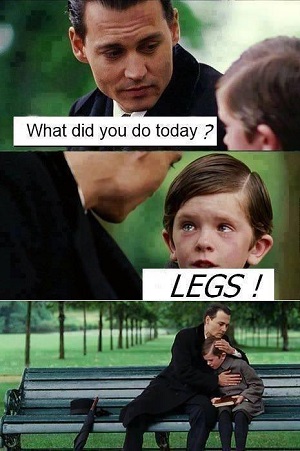 After completing Body Beast Build Legs, I had two big thoughts:
You Still Sweat – legs are the biggest muscle group on the body. The moves you do in Build Legs will challenge you and they move rather quick between the moves. I like this, especially when trying to make those lean gains, versus the stress of added body fat that can happen in muscle building programs.
You Will Fear Stairs – I hope you don't have a lot of stairs in your house. Body Beast Build Legs will challenge you with your ability to go up the stairs after a workout like this one. But if you lift heavy enough, you'll also get a decent arm workout too which I thought was nice.
Warm-Up – Body Beast Build Legs Review

The warm-up is about a minute long. That's it. For those of you (like me) who hate long warm-ups, welcome to heaven, folks! You do some light jogging, hip circles, reverse lunges, and sumo squats (I have to laugh at how Sagi does his jogging in place, in comparison to something like INSANITY, he is barely walking LOL).
Single Set
Sumo Squat – The move that welcomes you to Body Beast Build Legs is the sumo squat. This is a Single Set, meaning its one move progressing from 15 reps to 12 reps, to 8 reps. As the reps go down, the weight goes up.
Super Set
Alternating Lunge – Now you hold two weights, progress from 15 reps down to 8 reps all while stepping forward into a lunge. This one was TOUGH stuff for me (hello challenge!).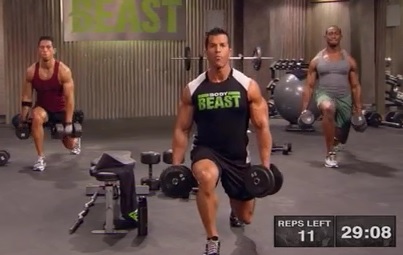 Step-Up to Reverse Lunge – I guess I never thought about how tall my bench was until I had to do this move. I actually needed to start lighter than I thought because of how much the move works your entire body. Stepping up is one thing, but then going backwards into a reverse lunge is crazy nuts!
Giant Set
Parallel Squat – A simple old school squat with weights. I was able to use a heavier weight here, which did more for my confidence after getting steamrolled by the Step-Up reverse lunge!
Bulgarian Squat – For those of you who did P90X Legs & Back, this is a similar move. Balance one leg on the stability ball or bench and up and down you'll go!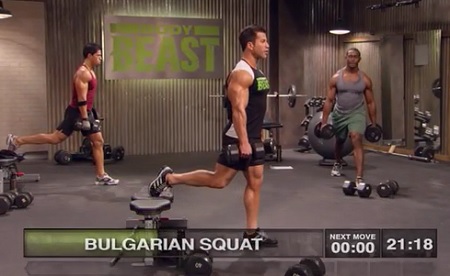 Straight Leg Deadlift – I was pretty impressed by this move. Here you'll have a chance to use the ez-curl bar or alternatively use your dumbbells to work on those hamstrings in a great way. I personally have tight hamstrings, so if you are like me, this move will help you!!
Super Set
Single Leg Calf Raise – during this move you'll do calf raises with one leg while holding just one weight for 30 seconds and doing maximum reps.
Seated Calf Raises – on this seated move, I decided to bust out the 40 pound weights. Luckily my calves are pretty strong since I used to be a Drum Major in Marching Band (oh yes…I was a Band Geek believe it or not).
Single Set Abs!
In and Outs – Another one that I remember from P90X Ab Ripper X. In and Outs are a great abs move, and I like how Sagi is including these at the end of each Body Beast workout so far.
So there you have it, my Body Beast Build Legs Review for Day 2! If you aren't already part of Team Beachbody, join our Sweet Life Fitness Community for free by clicking here.
Body Beast Build Legs – Nutrition
At 2,994 calories that were calculated thanks to the Body Beast nutrition guide, it presents a new challenge. Eating that much food can be mind boggling for someone who used to be focused on losing fat!! But of course, one can't be a beast and build muscle without eating like a beast!
In the Body Beast Bulk Phase, which is coming up after the Build Phase, there is a chance where we up the calories more. Goodness! But my goal and focus is to hit my calories and macros daily so I can get the results I deserve!
Follow me on MyFitnessPal to see my daily eating (my Body Beast eating takes place between late June & July 2014 if you are scrolling through my dairy each day).
Until next time, keep pushing play and BEASTING up! If you enjoyed this Body Beast Build Legs Review, be sure to share it on FB to inspire other men and women BEASTS out there!
Yours in the #BEASTMODE,
Coach Bob