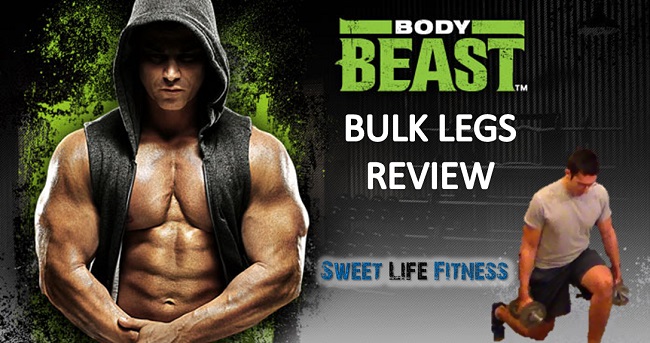 For those following my Body Beast journey, if you thought Build Legs was crazy, Bulk Legs takes your legs to a place you've never traveled (I don't think I'm in Kansas anymore…). In today's Body Beast Bulk Legs review I'll give my overview of this workout and my tips as always.
Body Beast Bulk Legs Review – Video Review!!
Don't miss out on the shenanigans of these YouTube Video reviews – be sure to Subscribe to my channel!
Body Beast Bulk Legs Review – Quadzilla!!
The very first thing Sagi says in the introduction to the workout is something like:
"Here comes Quadzilla! That's right that is your new name! You're gonna get big legs. NO! You're going to get HUGE legs".
Isn't he hilarious?
Too bad right now I'm feeling like chicken legs versus Quadzilla. I suppose I have some work to do!
My big lesson for my Body Beast Bulk Legs Review is the focus on the CORE. I learned that working your legs can most definitely help the definition (and growth) of your lower ab muscles (YES!).
When I go down in certain lunges, when I don't use my core as my point of balance, I tend to stumble and fumble (no good for the GAINS!). Use the core, and not only will you maintain balance to build better legs, but you'll continue to develop your lower ab area. Anyway, let's get to the Body Beast Bulk Legs Review!
Body Beast Bulk Legs Review of the Moves
Below are the moves you'll see within the Body Beast Bulk Legs workout. As most Body Beast workouts, you'll start the warm-up with jogging, reverse lunges, and end with the jog.
Then the torture of Body Beast Bulk Legs review begins!
SINGLE SET

Front to Back Lunge – This one alone burns you out and let's you know really quick what Body Beast Bulk Legs is ALL about. I really used my core to focus on balance (as I mentioned in the video above). Weights: 12 reps at 10 pounds / 10 reps at 15 pounds / 8 reps at 20 pounds
PROGRESSIVE SET
Squat – I originally maxed out at 25 pounds, but as I progressed through the weeks I was able to go up to 40 pound dumbbells. A simple squat that works all parts of the body. Weights: 15 reps at 20 pounds / 12 reps at 25 pounds / 8 reps at 40 pounds
FORCE SET
Full to 1/2 Sumo Squat – I liked this move a lot, but by the end of the force set (5 sets of 5 reps) I was feeling pretty burned out. For this move I used a 25 pound dumbbell through the entire move. I could probably use 40 pounds, but I know I'd be burned by the 3rd set, which defeats the goal.
PROGRESSIVE SET
Split Squat w/ EZ Bar – I did NOT use the EZ Bar on this move. Sometimes I do, but for me personally (this isn't for everyone), I like the synergy of using dumbbells to focus on my stability throughout my entire body (I need it!). Weights: 15 reps at 15 pounds / 12 reps at 20 pounds / 8 reps at 25 pounds.
SUPER SET
Stiff Leg Deadlift – I totally need this move for stretching out and strengthening my hamstrings (see another trick I use: The Foam Roller). I have to really be careful to not tweak my lower back during the moves and focus in on the effort. Weight: 15 reps at 15 pounds / 12 reps at 20 pounds / 8 reps at 25 pounds / drop set at 15 pounds.
Alt. Side Squat – This one is KILLER! This week I tried it with 15 pound weights, going side to side, without coming up much from the move. That lasted for all of 1 set (lol). I use 8 pounds on this and really just go as deep into the squat, and stay deep into the squat, throughout all reps.
SUPER SET
Calf Raise – BEASTLY! I love calf raises and it brings me back to my Drum Major days in High School (oh yes…I was a band geek, get over it). I used 25 pound weights throughout both legs and rocked it out.
BEAST Abs – Spelling the "BEAST" both forward and backward. An amazing all around core workout to blow out a great Leg burner.
Body Beast Bulk Legs Review – Average Calories Burned
I often get the questions a lot from our community about how many average calories Body Beast burns. Quite honestly this depends on a few factors and varies based on things like:
How much weight you're lifting
Your Age and Fitness Level
Your Heart Rate
How much intensity you are bringing to your workouts
Your Range of Motion. The higher/deeper you go into a move, the more calories you expend as a result.
From an average calorie burn perspective, you are looking at around 400-600 calories during the workout. I will be honest in saying that I burned around 774 calories at max. The reason being is that I used a heavy weight and was really maximizing my form and range of motion for each exercise.
Thanks for checking out my Body Beast Bulk Legs Review. Be sure to comment below if you are doing Body Beast and let me know how you are doing!
Yours in Beast Mode Success!
Coach Bob
P.S. – I am looking for leaders who want to get paid to share their fitness journey with others! Sound like you? CLICK HERE to watch our free webinar to see if you are a good fit.