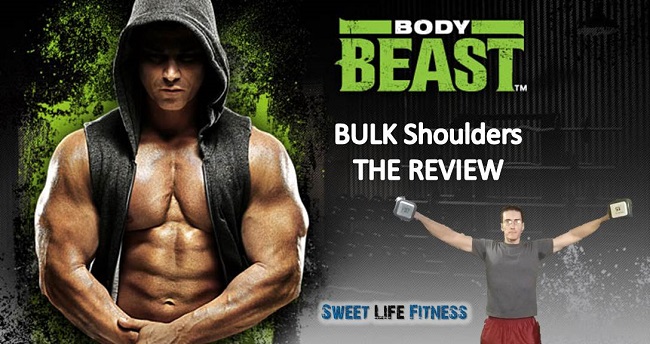 Today I bulked up with Sagi and the crew and I'm bringing you my Body Beast Bulk Shoulders review. I know throughout my Body Beast journey I've been really raving about this entire program, and Body Beast Bulk Shoulders is no different.
I will admit that my shoulders were always weak. I've had troubles with things like pull-ups as I mention in the Bulk Back Review and the P90X3 Challenge review.
It was time to rock and roll and build up my shoulders! I loaded up on my pre-workout, my necessary nutrition, and decided to go ALL IN for each Body Beast Bulk Shoulders workout.
Body Beast Bulk Shoulders Review of the Moves
Another short but intense workout! This workout is only 35 minutes long – but 35 minutes is all you need to Bulk up your shoulders!
SUPER SET
Lateral Raise – During week 1 of the Bulk Phase this one kicked my butt. I started with 8 pounds and maxed out at 15s! Then, by the end I maxed with 25s. Progress is key! It's not about where you start, but how you progress. (Reps and Weight: 15 reps at 10 pounds / 12 reps at 15 pounds / 8 reps at 25 pounds).
Arnold Press – Arnold!!! Get to the Choppa! Another butt kicker. I don't know about you, but the fact that the people in the workout are using substantially heavier weight than they did on the Lateral raise freaked me out. I have to work on this move as I'm a bit weak on it! (Weight: 15 reps at 15 pounds / 12 reps at 20 pounds / 8 reps at 25 pounds / drop set at 15 pounds).
PROGRESSIVE SET
Upright Row – I love this move! Not only do you work the tops of the shoulders and the traps a bit, it just looks badass 🙂
Whoever said that lifting weights doesn't burn body fat is kidding themselves! I sweat more than ever during these workouts and I'm not jumping and running all over the place! In fact, some studies out there talk about how muscles burn more body fat even when you aren't working out. Hence the reason for my LOVE for this program and journey so far!
All of this sweating and BEAST MODE with Body Beast Bulk Shoulders calls for an intermittent protein shake break!
SUPER SET
Alternating Front Raise – This works the front of your shoulders in creating that beautiful 3-D appearance! This one ROCKS in so many ways. In week 1 I really started lighter as this burns you out pretty quickly. (Weights: 15 reps at 10 pounds / 12 reps at 15 pounds / 8 reps at 20 pounds or until failure)
Plate Twist-Twist – OK this has to be my favorite in the Body Beast Bulk Shoulders workout! Lifting up that plate (I use 25 pounds) and I feel like I'm driving a car. Of course this car is some time of heavy-weight machine or transformer that makes you some muscle gains!
PROGRESSIVE SET
Reverse Fly – A great end to the Bulk Shoulders workout. I must say that I do wish we had just a bit more focus on the back of the shoulders throughout the workout, and not just this move thrown in at the end. Either way, I had to start light as this one kicks my butt as well (weights were around 8-10 pounds max!!).
SUPER SET
Superman Stretch and Plank Twist-Twist – These two moves end the evening of this BEASTLY workout. Although it's a bit strange because the superman stretch feels more like a back stretch, but I get the point of it using your upper shoulders to stretch as well. As always, it's not a Beast workout without some sort of CORE move at the end (Plank Twist-Twist). I decide to hold 8-15 pounds depending on my mood/intensity for added shenanigans.
Before you know it – 35 minutes are DONE and you have officially finished the Body Beast Bulk Shoulders workout!
I hope you enjoyed reading my update on the Body Beast Bulk Shoulders Review here at Sweet Life Fitness. Be sure to LIKE & Share this post using the social media buttons below.
Also, if you want to Beast Up with me and the Sweet Life Community, either Join Us Free (if you already have the program), or Get Body Beast at the best price today.
Yours in Beast Mode Success,
Coach Bob