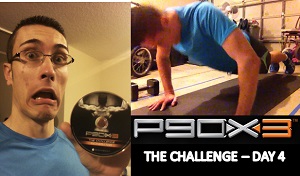 Today was a tough one! P90X3 Day 4 The Challenge. If you have not done this yet, you might be wondering "What is THE CHALLENGE"? This workout has you set goals before it even starts. The goal: Push-Ups and Pull-Ups. Set yourself a goal for both of these (you'll see in this first week I shot this one pretty low). Then, you goal is to hit or exceed your established goals.
Ugh – why push-ups and pull-ups? Trust me, I'm right there with you. This past year I've done cardio-based workouts primarily. The thoughts of using body weight and doing these hard moves is tough. But, the body is meant for these types of moves. Plus, the most ripped and sexy looking people do them, so let's buckle up!
P90X3 Day 4 The Challenge – My Results and Thoughts
Taking what I did with the P90X3 Fit Test, I decided to set my goals as follows:
In my mind I knew I wanted to do more than that, but ideally with some of the moves, this served me right. I used the Chin-Up Max to help me modify the pull-ups while I build my back muscles again, and brought it as hard as I could!
Here are my results! I hit the goals on all but ONE move (and now that move is going to be my enemy….time to crush it! lol)
Wide Pull-Up: 5
Standard Push-Up: 12
Chin-Up: 6
Military Push-Up: 9
Close Grip Pull-Up: 3 (but on the second round I only did 1 – BOO!)
Wide Push-Up: 8
Right Vaulter Pull-Up: 3
Staggered Push-Up Right: 7
Left Vaulter Pull-Up: 4
Staggered Push-Up Left: 7
If you are getting ready to do P90X3 day 4 The Challenge, here is a note: Do not worry about my results. You should never compare your results to mine, whether they are better or not. The goal is to make sure you beat YOURSELF each time. You are your true competition. Show yourself who's boss! Also, be sure to always use the P90X3 Worksheets to record your progress.
Are you doing P90X3? If so, and you aren't already on Team Beachbody, get your FREE Account (Click Here) and join our Sweet Life team. Get updates, specials, and a community that won't let you fail!
Thank you for checking out my P90X3 Day 4 The Challenge Review!
Yours in P90X3 Success,
Coach Bob Sharpe
See My Other Reviews: (P90X3 Day 1 / P90X3 Day 2 / P90X3 Day 3)