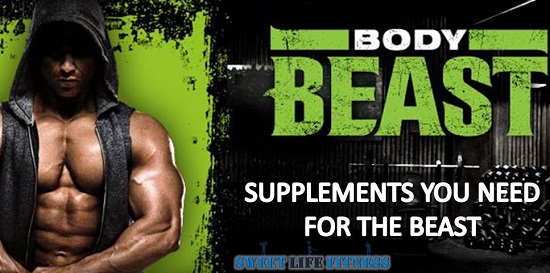 When it comes down to the Body Beast Supplements for this strong workout program, what do you really need? I actually get this question a lot from both men and women who are working out with the famous Body Beast program.
On this page I'll discuss why you need the supplements, along with the four major Body Beast Supplements that are available.
Why Do you Need Body Beast Supplements?
To jump into the basics, the reason the Body Beast program was created was to help people get HUGE! If you want to pack on muscle, or build up a nice, rounded, lean muscle, you need supplements.
In fact, avoiding supplements with a program like this is almost like putting oil in instead of gas for your car. You aren't going to get far! The supplements provide additional surge and nutritional resource that eating healthy won't often provide. The major supplemental factors you need in Body Beast include:
Carbs – especially in the beginning of the program, carbs are essentially important. The Fuel Shot supplement packs in 40 grams of carbs in a single serving. The reason you need so many carbs is that your body needs energy (carbs = energy). By depleting yourself of carbs, you may experience what the fitness world calls a "bonk" during Body Beast. This means you are depleted of energy, and losing muscle vs. gaining muscle.
Potassium – ever notice how many athletes eat bananas? Bananas definitely are a good source of protein. But instead of eating bananas all day (you goofy monkey you), you can also use the Body Beast supplements. Most of the supplements include traces of potassium, with Fuel Shot having 280mg in just one serving.
Protein – You definitely need protein of course. But that will be mainly the source of your food (chicken, grass-fed beef, etc). There are some small amounts of protein within the Beast Supplements, but there are other more important nutritional factors the supplements provide.
Creatine – No, creatine is not some hyped-up steriod. Creatine is naturally occurring in your body! But, when you do a program and are an athlete, you need additional creatine sources. The MAX Creatine Supplement provides a creatine boost so you can ensure water and essential nutrients get fueled into your muscles. Without it, you risk your body using your muscles as energy during the workouts vs pumping them and helping them grow (and using FAT for energy instead!).
What are the Four Body Beast Supplements?
You can check out the four Body Beast supplements and purchase them here. Remember that when you purchase through Coach Bob with Sweet Life Fitness (that's me), you also get my free Coaching and your part of our Team Sweet Life network. You will still get all of the great guarantees and support, with additional help from me and the team!

Fuel Shot Supplement – No untested ingredients. Blow past fatigue with a few sips of performance-enhancing calories. This dextrose- and maltodextrin-based energy drink is designed to drive nutrients into muscle fiber for greater strength during workouts and help replenish the glycogen and electrolytes lost after workouts.
Your Price: $49.95 – Click Here to Learn More

Hardcore Base Shake – Monstrous, carved muscles start here. This exclusive blend gives you 18 grams of high-quality, fast- and slow-digesting proteins to help boost your results at an accelerated pace. I use this alongside of Fuel Shot for the best possible blend.
Your Price: $59.95 – Click here to Learn More

MAX Creatine – With M.A.X. Creatine, you get high-grade pure creatine monohydrate—without fillers, preservatives, or untested ingredients. Use daily to help build strength, with increased energy and stamina. Don't fall for those over the counter creatines that put fake sugars and unnecessary garbage in each serving. Yuck!
Your Price: $29.95 – Click here to Learn More

Super Suma – (I certainly recommend this for ALL Guys doing Body Beast). Super Suma is made from suma root ("Brazilian ginseng") and contains Beachbody's exclusive plant-based enzyme system for enhanced benefits. Use daily to help amp up muscle strength, size, and endurance.
Your Price: $29.95 – Click here to Learn More
I hope you found this information on Body Beast Supplements helpful. If you have any questions about the supplements, comment below and let's chat!
Yours in Success,
Coach Bob