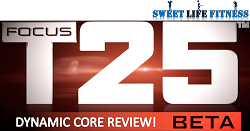 Today my wife Cristen and I are discussing our Focus T25 Dynamic Core Review. This particular workout is in the Beta Cycle of Focus T25 (the second phase, or second month of the program).
As I mention in the video below, this workout made me mad! But it wasn't the workouts fault, I went in with the wrong mindset (did you ever go in to a workout "unfocused" or with a different expectation?).
When I thought "core", I really thought ab blasting moves. I supposed I missed the "dynamic" piece of this workout. The major difference is that the first half of the workout is standing cardio moves that target your core. The final half of the program is where we experience the grounded ab moves.
While at first I was mad, once it was completed I had a new appreciation for our Focus T25 Dynamic Core review. Specifically, the idea of having cardio with a core focus is part of a huge recipe to slim down to better abs (combined with good eating of course). See more in my Focus T25 Review full post.
Focus T25 Dynamic Core Review – The Moves & Tips
These are some tips on SOME of the moves within Focus T25 Dynamic Core Review. If you want a full tip and trick on each move, make sure you are on Team Beachbody and have me as your Free Coach (click here to do it) – then, e-mail me and I can help you modify and succeed at each tip.
For now, here is a preview of some of the moves with Focus T25 Dynamic Core review:
As always, we start up with a great warm-up:
Split Lunge Agility – this move is a popular warm-up move in Focus T25. You don't necessarily have to lunge deep, just focus more on pushing your left then right leg forward and getting your heart rate up.
Low Switch Kick – quickly switch your feet from left to right in a cardio-based kick move. Go high enough where you feel a pull on your lower abs, but not too high where you end up doing High Switch Kicks.
Double Switch Kick – same as the low switch kick, only you hop on your left and right foot twice.
High Switch Kick – push your kicks up to waist high (if you can) focusing on your lower abs doing the work for you.
Static Uppercut – A fun move that targets core, shoulders, and arms. Standing with your feet together, you throw uppercut punches left and right.
Jack Uppercut – Same thing as the static uppercuts, only throwing in a jumping jack with your legs in between the uppercuts. Keep in mind that all effort on punching must come from the core (as Shaun T reminds us!).
This is just about the end of the warm-up (22:10 left!). And yet we haven't gone to the floor yet (wow imagine that!).
Twisting "T" Abs – You start in a front lunge and then rotate from left to right while keep your arms raised into a "T". I like to focus on my core powering me through the turns (great for your oblique ab muscles). My tip: take it easy! Don't go fast on this move. Go slow and let your abs do the work for you.
Twisting "T" Abs: Lower – Same deal, but squat down lower, my friends! As I mentioned above, take it slow with these moves and focus on your abs.
Speed Knee Kick (L) – Stand on your right foot, pull your left knee up to waist-level, and kick up and back while hopping slightly on your right. My tip for this move is to focus on using your lower abs to keep your left leg up. Also, don't let yourself fall around too much, use the core to keep yourself straight up while you perform this move for optimal results.
Hammer Kick (R) – The right foot gets busy by starting off in a lunge position (left foot forward) and bringing your right leg up to your hands. Focus as hard as you can on using your abs on this and not your lower back. People tend to use lower backs to pull up the legs in the kick, but that works against the Dynamic CORE!
Speed Knee Kick (R) – Same deal as above with the left leg, only this uses your right leg!
Hammer Kick (L) – Same deal as the right leg hammer kick, only with your left leg!
Still not on the floor doing ab/core moves yet! Crazy isn't it? I guess that is why they decided to call this Focus T25 Dynamic Core (just my wild guess…)
Sprint Table Top – A bit of cardio and balance mixed. Sprint until Shaun T says "Table Top!" and lift your left or right leg behind you and place your hands out straight (this is similar to a Warrior 3 Yoga Move that you can find in LINK****P90X).
Crisscross + Half-Tuck Jump – Cardio super power! You criss cross your legs in a standing position, and then do a half tuck jump, repeat, repeat, repeat. My tip is to stick with this and if you can't give full motion, do as much as you can and don't stop moving!
Shuffle Sprint Kick – Shuffle left and right, and when you are at the edge of each shuffle, you spin to the left (or right) and kick. Repeat. Focus on your core in this move while keeping your glutes tight during the shuffle.
Connecting Deep Squat – Alright, after all of that intensity, time for a slow, easy, FINAL standing move! This is a strange little move but does wonders for your core and squatting intensity. Front-facing squat, raise your arms in the air, and rotate your arms down under each leg and squeeze.
We have made it to about 15 minutes left of the Focus T25 Dynamic Core Review! What's next? The ground ab moves I've been waiting for!
Torso Lift – Begin lying down with your arms straight out above your head. Lift your entire torso while your legs remain on the ground. My tip is to, again, focus on your core and ensures your lower back does not get used for any of these moves.
Alternating Straight Leg Scissor – Hands down by your side, head lifted up, and lift your legs one at a time creating a scissor effect (do not bend your knees). Remember the importance of keeping your head lifted and focusing on pushing your back to the floor while raising your legs. We do this because if you don't, your back takes over and totally screws up your results!
Hip Up and Reverse Crunch – Great back and core exercise mixed into one move. When you are in a hip up move, be sure to keep your body straight and not put all of the strain on your neck.
Butterfly Leg Lift (L & R) – Cross one leg in, and the other leg remains straight while you are in a seated position. Lift your leg while flexing your foot (pushing your heel out). This move works wonders for the lower abs, enjoy it!
Focus T25 Dynamic Core Review – Our Video Review
Check out our video review that also showcases us doing some of the moves as part of our Focus T25 Dynamic Core Review:
How are you doing with Focus T25? If you don't have this program yet, get it done in just 25 minutes (learn more here).
Comment below with any questions, thoughts, and "hellos" below on Focus T25!
Yours in Fitness Success,
Coach Bob Sharpe