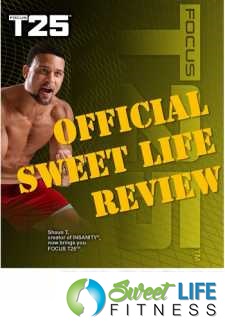 I am excited to share my full Focus T25 Review with all of you in our Sweet Life Fitness community. Get everything you need to know here on this page. Will 25 minutes per day work for fat loss and your goals? Let's find out!
If you are looking to purchase Focus T25, you are doing the RIGHT thing by dialing into a Focus T25 review before you spend the money. Based on what I would want to hear in searching around, I will address:
Before we start, if there is any questions at all that YOU have about Focus T25 (either now or later), remember that you can always contact me as your Coach to chat and ask questions. (Be sure to check out my personal Focus T25 results as well).
What to Expect with Focus T25? – Focus T25 Review
When Focus T25 was released in June 2013, it created a buzz around the fitness world. How could a program like T25 get you hour-per-day results in just 25 minutes per day??
I was pleasantly surprised at how I was able to get this workout completed in just 25 minutes and not a stinking HOUR.  I also felt as though I was really pushing myself harder because I knew the workout was done faster and not such a drag.
Based on my personal Focus T25 Review, here are some of the great benefits of what to expect if you order Focus T25:
People who want great results without punishing themselves with insane exercise day after day.
A program that you can do in your spare time around a busy work, school, or life schedule.
The ability to modify the workouts if you are just starting out. This program is effective for beginners to people who just need to burn down some body fat.
Motivation from Shaun T. – the motivating powerhouse behind the INSANITY Workouts who has helped so many people.
What is the Focus T25 Schedule?
The Focus T25 Workout schedule is broken up into two phases in the main kit, called Alpha and Beta. Alpha is the first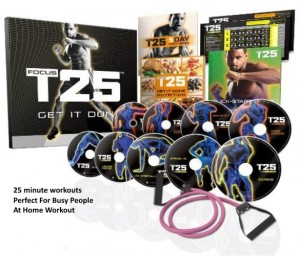 month of Focus T25, and Beta is the second month. There is an upgrade option, called "Gamma" that is a third month that takes the intensity up a notch!
The Alpha and Beta Schedules are broken up into 5 weeks, only working out 25 minutes for 5 days per week.
**One IMPORTANT thing to note is that while each day is only 25 minutes, Friday is a DOUBLE day. This means you'll be doing two Focus T25 workouts for a total of 50 minutes. The reason you do this is because you end the week with 2 "rest" days. Plus, studies have shown in the test group that having a powerful day like Double Day Friday can help you with your overall weight loss and fat loss in the program.**
The ALPHA Phase – 5 Weeks – Focus T25 Review
Alpha is a great starting point, especially for defining your starting point for exercise. Beginners get the opportunity to get introduced (or re-introduced) into physical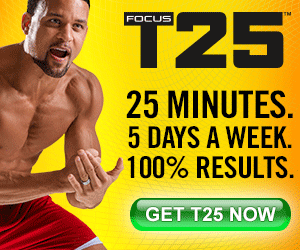 fitness and weight loss.
I really liked Alpha because of the expectations it set. You will start off with workouts and moves that challenge you, but don't beat you up from day one.
Here are the workouts in Alpha:
Cardio
Total Body Circuit
Lower Focus
Ab Intervals
Speed 1.0
People who have been part of our online community with T25 have reported great weight loss of 5-10 pounds in the FIRST 30 days of their T25 review! They followed along with the program daily and followed the nutrition plan that is included.
The BETA Phase – 5 Weeks – Focus T25 Review
The Beta phase focuses on core conditioning. This phase does have an optional need for either a resistance band or moderate dumbbells for these moves.
Here are the moves you'll see during the Beta Phase:
Upper Focus
Core Cardio
Speed 2.0
Rip'T Circuit
After you complete Focus T25, you can dig even deeper with the Focus T25 Gamma workout. This is another phase that focuses on specific weight training and taking your results to the next level. If you finished with the regular Focus T25 workouts, and are ready to amp it up a notch, check out Focus T25 Gamma

Focus T25 Review – Nutrition
The Focus T25 Nutrition Guide is based solely around losing body fat and reducing your weight. It provides a bit of a lower calorie intake than most people are used to; however, if you decide to Buy Focus T25 here at Sweet Life Fitness, you'll get our calorie calculator system for free that is suited best to your body type and needs.
Check out the Focus T25 nutrition step by step plan that is included in the T25 package: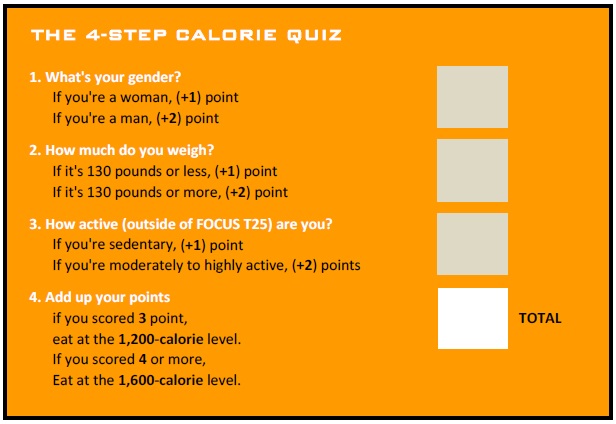 Focus T25 Review for Beginners? Is it TOO Hard?
This is a question I get often. People often confuse Focus T25 with INSANITY, mainly because it is created by the same trainer, Shaun T. Do NOT worry; this is not a condensed version of INSANITY. I think that what you will find is:
You can MODIFY more as you work towards getting BETTER (see my video below for more info)
What I noticed is that I pushed HARDER during the workouts. Why? Less time! Looking up and seeing that you only have 10 more mins left (versus 30 or 40 minutes left) gives you that new sense of drive and motivation to keep pushing hard.
REAL Focus T25 Review Results
See the REAL results from Focus T25 in the below reviews. These are results directly from our Sweet Life Fitness coaching with Coach Bob!
Jimmy started melting down the pounds fast during his T25 Review. Taking each day at a time, and not being afraid to modifying the workouts led Jimmy to an incredible result!
If you are already slim but you're looking to sculpt those abs, Focus T25 can help! See Frank's results and how he was able to redefine his six pack abs working out only 25 minutes per day!
Feel free to see even more legit and defined results direct from our Team Sweet Life Fitness community on our Sweet Results page.
If you'd like to get free personalized coaching, along with an invite into our Team Sweet Life Fitness online group on Facebook, just click the link below to view the different T25 packages you can get (best value is the Challenge pack for the highest savings and additional nutritional supplement included).

Also, feel free to check out my video where I share some more information on my Focus T25 Review:

If you got any value out of this Focus T25 Review, please share it! I feel that Focus T25 has the opportunity to really help a lot of people regain their health and weight loss goals. It's all about getting the results you DESERVE, and I think Focus T25 is a great tool for that opportunity!!! Looking for a good alternative? Consider Shaun T's other program when you buy INSANITY Max 30. Or, take it up one notch with the P90X3 T25 Hybrid Calendar!
Yours in Success,
Coach Bob